George Christy Exclusive: Actor Mickey Rooney, US Troops Honored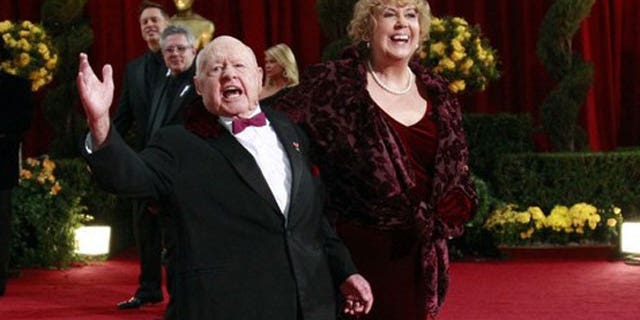 Famed Beverly Hills Courier columnist George Christy gives you an insider's peek into Hollywood's A-list parties and personalities.
The Army, Navy and the Marines were honored at the 54th annual Thalians Ball at the Beverly Hilton in Beverly Hills, as was Mickey Rooney the Thalians' Mr. Wonderful, who recieved the gold Goofy statuette designed by Walt Disney. Mickey, whose career is incomparable, was born Joe Yule Jr. of vaudevillian parents and delivered by a Chinese doctor on a Brooklyn boarding house table on January 23, 1920.
His Irish mom, Nellie Carter, was determined that Mickey attain stardom, buying him a finely tailored tuxedo to perform in when he was 17 months old. (Dad, Joe Yule, was a Scotsman.) Later on, Mom Nellie decided to change his showbusiness name from Joe Yule to Mickey Looney, but Mickey chose Rooney instead.
During the late '30s, he was acclaimed as the biggest boxoffice star with his Andy Hardy films (fourteen in ten years!), singing and dancing with Judy Garland in glorious musicals (rent them!). He served in the Army during World War II, battled addictions and bad investments. When an angel appeared to him in a diner, he became a born-again Christian, as did his son Mickey Jr., who heads a ministry in Hemet, California. Mickey's also long been a spokesman for veterans and animal rights.

RELATED: Click here to read George Christy's full column at the Beverly Hills Courier.