Garth Brooks promises to finish Mike Fisher duet, calls out Wayne Gretzky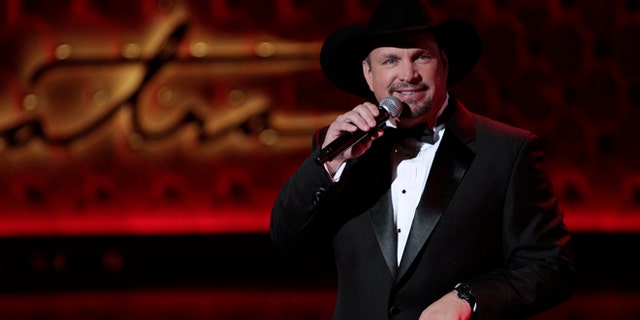 NEWYou can now listen to Fox News articles!
Garth Brooks and Carrie Underwood's husband, Mike Fisher, recently made headlines when they posted a duet online, and according to Brooks, they're not done yet.
Underwood posted a clip of her husband, who plays hockey with the Nashville Predators, singing Brooks' hit "The River" a few months back, and in response, Brooks posted to social media inviting Fisher to sing it with him, which Underwood jokes she expressly forbid.
Click here to subscribe to FOX411's YouTube channel
I said, "You cannot sing with Garth Brooks before I do", she told Country Countdown USA. "When I was 10 years old I met Garth Brooks and said, 'If you ever need someone to sing a duet with you, I'm your girl.' So I've been waiting for that forever. And my husband who's a hockey player is gonna sing with Garth? I don't think so! I might cry if that happens."
Nonetheless, Brooks made good on his invitation to sing with Fisher earlier this week, sending Underwood a video that she then posted to Instagram with the caption, "How is it that my hubby, @mfisher1212 gets to sing with THE @garthbrooks before I do? As payback, I think I'll try to see if Wayne Gretzky wants to play a pick up hockey game sometime!"
Brooks addressed his fans in a live Facebook chat on Friday (April 8), before kicking off a two-night stand at the KFC Yum! Center in Lousiville, Ky. One fan wrote in and asked if he would sing with Underwood now that he has sung with Fisher.
"First of all, anybody and Carrie Underwood sound fantastic together," he says in the clip above. "And anybody and her husband actually sounds pretty good together, too. That was fun; that was a good little jab at Carrie, and I love her response about Gretzky. So I think the plan is, we gotta Gretzky now to get Carrie in full gear and get her out skating. I think that's it … so Wayne, I'm calling you out, and trust me, it'll the the best time you've ever had without those stinkin' boys. This beautiful young girl from Oklahoma, she'll steal the show."
Brooks says he plans to see Fisher soon to finish what they started.
"I have a date with Carrie's husband in Nashville to complete the duet," he says. "This is gonna be good."
He went on to wish the Predators well in their upcoming playoff games. Brooks has said he plans to end his ongoing World Tour in Nashville, but so far has not announced any date for that concert appearance.