'Game of Thrones' creators will write a series of new 'Star Wars' films following Season 8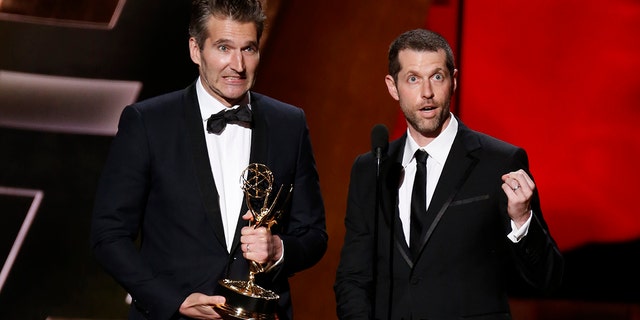 NEWYou can now listen to Fox News articles!
As the creators of HBO's "Game of Thrones" start to close out the ongoing story in the world of Westeros, it's been revealed that their next project will take them to a galaxy far, far away. Lucasfilm announced Tuesday that David Benioff and D.B. Weiss will write and produce a new series of films set in the "Star Wars" universe.
Despite the public announcement, the plot of the duo's upcoming film series is not clear. What is known is that they will be separate from the ongoing Skywalker saga and the recently-announced trilogy being developed by Rain Johnson, who wrote and directed the most recent film, "Star Wars: The Last Jedi."
"In the summer of 1977 we traveled to a galaxy far, far away, and we've been dreaming of it ever since," Benioff and Weiss said in a joint statement. "We are honored by the opportunity, a little terrified by the responsibility, and so excited to get started as soon as the final season of 'Game of Thrones' is complete."
The announcement of Benioff and Weiss' next project is puzzling given that HBO previously announced that their next project would be a new TV show at the network, "Confederate." However, it's not surprising that everyone involved with "Confederate" would want to distance themselves from the project after it received immense negative backlash for pitching a world in which slavery was never abolished following the American Civil War.
Since then, the network and creators have been pretty mum about the project, with unconfirmed rumors circulating that the entire project has been tabled for the time being. Now it seems that the "Game of Thrones" creators will pivot to films after the show wraps its eighth and final season in 2019 rather than another TV project. This leaves the fate of "Confederate" in question.
Reps for HBO did not immediately respond to Fox News' request for comment.
Currently, there's no release dates or additional information about the duo's "Star Wars" project. However, the news comes at a time when Lucasfilm is expanding the franchise's scope with films like "Rogue One" and "Solo," which dropped its first trailer on Monday, working in tandem with the Skywalker Saga, which has premiered two of its three planned installments.