Former 'American Idol' contestant Casey Abrams releases song inspired by 'embarrassing' condition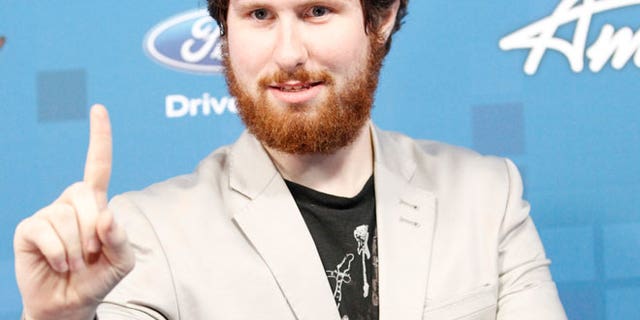 Season Ten "American Idol" finalist Casey Abrams hit headlines during competition last year, after he was rushed to the hospital twice with debilitating flare-ups of inflammatory bowel disease (IBD). But now, Abrams is making good use of his musical talents to draw much-needed awareness to the condition.
"You lose a lot of energy because of the inflammation in the colon, I would go to the bathroom up to fifteen times a day and there would be blood," Abrams, who has partnered with Janssen Biotech, Inc. to create an music video and original song called "Chip on Your Shoulder" based off his personal experiences with the illness, told FOX411's Pop Tarts column. "I had no idea what was wrong with me. I thought it was some kind of bad flu."
The now 21-year-old music sensation was eventually diagnosed with ulcerative colitis at age 19, and wants other sufferers to realize that they are not alone, and that the symptoms can be managed to lead a happy, normal life.
"I feared I wouldn't be able to travel and do my own thing with my music, but you can overcome these obstacles," Abrams assured us. "Lots of people are going through this, but not enough people are really talking about it. I know at first I didn't want to tell anyone, I found the whole thing really embarrassing, but I have moved past that now."
The crooner is also encouraging anyone who is living with IBD, or knows someone who is, to join the fan club at IBDIcons.com for access to more inspirational stories and to his new music video. For every fan that joins, a donation will be made by Janssen Biotech to the Crohn's & Colitis Foundation of America (CCFA), an organization dedicated to finding cures for IBD and associated chronic digestive diseases.
Indeed it's a been a big few weeks for the young star, who placed sixth in the top-rated music competition last year, given that his self-titled album also hit the stands.
"You can expect craziness, humor and good music. The easy part is making the music, the hard part is getting it out the public," Abrams said. "I'm excited for people to hear it, but a little nervous too. But it has been a fun process."
And while he didn't walk away with the coveted title last year, he has nothing but positive things to say about the experience.
"Maybe I would have picked some other songs," Abrams added. "But I'm pretty happy with the risks I took."