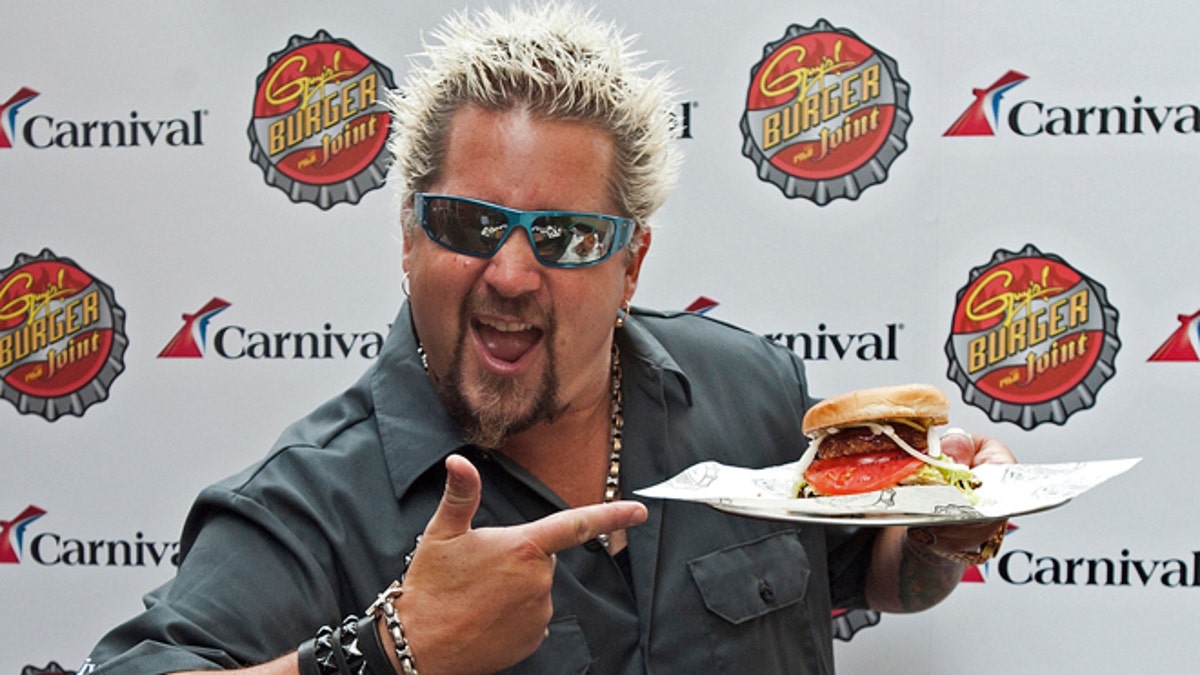 The 11 p.m. hour includes late-night hosts ranging from Conan O'Brien and Jon Stewart to David Letterman and Chelsea Handler. Now add TV chef Guy Fieri to the list.
Fieri isn't taking on a new talk show. Still, Food Network is getting more seriously into the late-night game by running two episodes of Fieri's "Diners, Drive-Ins and Dives" weeknights starting at 11 p.m., marking the first time in years the Scripps Networks' outlet has run the same show in the same time slot on an ongoing basis, said Bob Tuschman, the network's senior veep and general manager, in an interview.
"Most late-night viewing has typically been driven by habitual viewing," explained Tuschman. And yet, Food has for several years been capping off the night by running more episodes of whatever was airing in primetime each evening. Which meant viewers may have seen an episode of "Chopped" one night at 11 p.m., then an episode of "Mystery Diners" on another.
Food Network executives felt regular airings of "Triple D," as the show is sometimes called, would be more appealing to viewers who make a habit of turning to local news or an expected run of an off-network sitcom.
Of course, he also acknowledged that the program, which shows the enthusiastic cook waxing excitedly over and digging into gumbo, oversized sandwiches, barbecue and other diner fare, will have to duke it out with the legion of talk shows that also broadcast during that hour.
Food Network began stocking its 11 p.m. hour with "Diners" Monday, December 9. This week, the network has run themed programs - fried food one night, burgers another – to call attention to the program's new presence. "Diners" continues to run during the week in primetime, said Tuschman, which is when new episodes of the show will debut.
"Diners" will run at 11 p.m. on an "indefinite" basis, he said.
The program was appealing to network executives because it owns a "deep library" of episodes and because the show is "upbeat." Network executives "thought it would make the perfect late-night accompaniment, a nightcap before you want to go to bed," Tuschman said.
While the show's new run is in "early days," he said, executives are encouraged by viewing patterns so far.
The network has been running commercials during some late-night standbys to drum up attention for its effort. One recent spot surfaced during last week's airing of "Saturday Night Live" while it was broadcast on New York's WNBC.
Food Network has not run 11 p.m. "strips" for some time, said Tuschman, though it used to do so with older programs like "Unwrapped" and "Good Eats."