First all-girl rock band in Kashmir disbands amid threats, government edict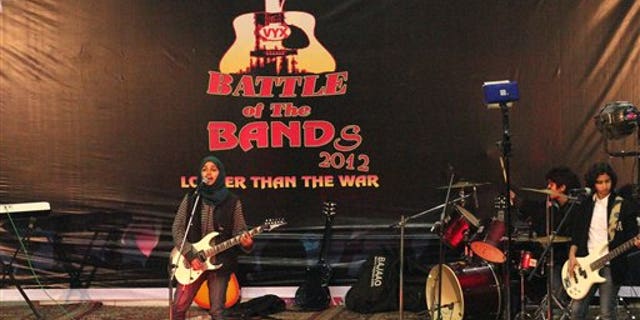 The first all-girl rock band in Indian-controlled Kashmir has decided to disband after only one concert because of threats its teenage members received on social media and a demand from a top Muslim cleric that they stop performing.
The fate of Pragaash, which means "First Light" in Kashmiri, highlights the simmering tension between modernity and tradition in Muslim-majority Kashmir, where an armed uprising against Indian rule and a relentless crackdown by government forces have killed more than 68,000 people since 1989. Separatists criticized the band for what it said was "Western-style cultural waywardness."
Adnan Mattoo, the rock group's music teacher and manager, said the three high school students who formed Pragaash -- drummer Farah Deeba, bass guitarist Aneeqa Khalid and singer and guitarist Noma Nazir -- won't talk about their decision to disband and what led to it.
"They feel terribly scared and want an immediate end to this controversy once for all," Mattoo said Tuesday. "First, the girls had decided to quit live performance due to an online hate campaign and concentrate on making an album. But after an edict by the government's own cleric, these girls are saying goodbye to music."
Pragaash performed in public for the first time in December in Srinagar, the main city in Indian-controlled Kashmir. It won third place in an annual "Battle of the Bands" rock show organized by an Indian paramilitary force as part of a campaign to win hearts and minds in the region.
Soon after the show, Kashmiri pages on social networking sites like Facebook hotly debated the band. Some questioned whether the performance was appropriate in the Muslim-dominated society in Kashmir and others raised broader questions on the Islamic approach to music and role of women in the society.
Many commenters backed the girls, but others were abusive, calling them "sluts" and "prostitutes" and calling for them and their families to be expelled from the region.
The controversy deepened Saturday after Omar Abdullah, the region's top elected official, promised a police probe into the threats and wrote on Twitter that "the talented teenagers should not let themselves be silenced by a handful of morons."
The girls then became a political tool for all sides in the conflict.
Mufti Bashiruddin Ahmad, Kashmir's state-appointed cleric, issued a fatwa Sunday ordering the girls to "stop from these activities and not to get influenced by the support of political leadership."
Kashmir's main separatist alliance, the All Parties Hurriyat Conference, criticized Abdullah for selectively supporting freedom of expression and said the band's concert was "a step toward diverting young girls toward Westernization."
However, the alliance distanced itself from the cleric's edict and denied the girls were under threat. "Indian media is blowing up a small issue with a purpose to defame the Kashmiri freedom struggle," the alliance said.
Experts say for most people in Kashmir, neither women performers nor music are a problem. "It becomes an issue when these strings are used to subvert a dominant political reality," said Wasim Bhat, a Kashmiri sociologist.
Kashmir has a long tradition of poetry and music, and has produced iconic female singers including Raj Begum, Kailash Mehra, Naseem Begum and Shamima Azad, the wife of India's health minister, Ghulam Nabi Azad.
That cultural heritage suffered when Muslim militants began their armed campaign two decades ago to gain independence for Indian-controlled Kashmir or its merger with Pakistan.
The rebels ordered the closure of cinemas and liquor shops, calling them "un-Islamic" and vehicles of India's cultural aggression. India's military responded to the insurrection with crackdowns that included torture, kidnapping, extortion and murder.
As armed violence waned in recent years, music shows and theater performances re-emerged, but some of the boundaries set during the conflict remained.
In 1996, a group of four girls broke a centuries-old convention when they started learning Sufiyana music, a classical Persian genre of music which Kashmir adopted after Persian Sufi saints started visiting the region.
A music school named after legendary Sufiyana maestro Ustad Ghulam Mohammed Qaleenbaf began training the girls at a time when guns roared in every corner of the region.
"Despite the unprecedented unrest, I received support from everyone who came to know of my initiative," said Sheikh Mohammed Yaqoob, Qaleenbaf's grandson.
Bhat, the sociologist, said nobody objected to the initiative "perhaps because they stayed within a tradition that does not contest the present-day political realities here."
"The tension between modern and traditional is in every society. But what exemplifies this in a conflict situation like Kashmir is its motivated politicization," he said.
Mattoo, the manager, did not hide his anger.
"I know it from my last eight years' experience that we could have easily dealt with the online abuse," Mattoo said. "We were failed by the government-run mufti, who asked us to forget our music and declared our band against the religion," he said.