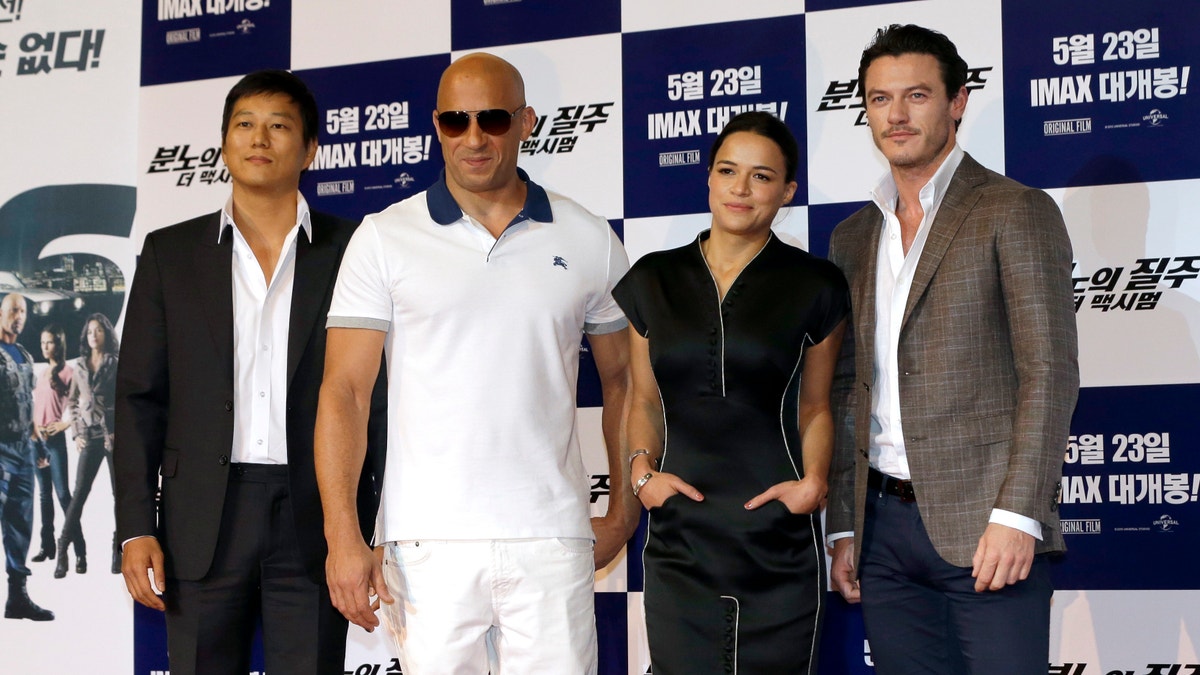 Forget the super-hyped "Star Trek Into Darkness" and "The Great Gatsby" – audiences in the United Kingdom and Ireland have given us an early glimpse into what moviegoers are really revving to see this summer: "Fast & Furious 6."
The sixth installment of the Universal Pictures franchise, opened across the pond this past weekend – pitted against "The Great Gatsby" (which earned $6.2 million) and a second-week "Star Trek" ($5.6 million) – obliterating them both with a number one opening, earning a record-smashing $13.1 million. The previous record was set earlier this year with the epic movie musical "Les Misérables," which brought in $13.1 million.
"Fast & Furious 6," which is set in London, marks the franchise's biggest opening weekend in the U.K. and the highest monetary achievement for its stars Vin Diesel and Dwayne "The Rock" Johnson. The plot this time around centers on Agent Luke Hobbs (Johnson) who enlists Dominic Toretto (Diesel) and his team to bring down a former Special Ops soldier, who leads a unit specializing in vehicular warfare.
So what is it about the long-running action film franchise that has audiences gunning it to the theater?
"Car racing is incredibly popular across Europe, much more so than in the U.S. Fast and Furious has delivered reliably to the action audience and using all the original cast while freshening it up with new cast has been a resilient strategy," Hollywood producer Gary Michael Walters, told FOX411's Pop Tarts column. "'Star Trek' has never had the popularity overseas it has enjoyed in the United States, although Paramount has grown the audience with this sequel. 'Gatsby' is a quintessential American story and although visually splendid does not have the same mass appeal as an action film overseas."
Jami Philbrick, managing editor of iamROGUE.com, too was not surprised by the box office result.
"'Trek' has never been a global franchise and has always done better at home than abroad. And while I liked 'Gatsby,' I'm surprised it did as well as it did in the US to begin with. ['Fast & Furious'] is truly an amazing franchise," he said. "The popularity of FF has been a surprise from the very beginning but unlike other franchises, this one keeps getting better. To have a series get more popular in its fifth and sixth installments is pretty much unheard of."
But according to movie review aggregation site Rotten Tomatoes, "Fast & Furious 6," which also stars Michelle Rodriguez, Paul Walker, Tyrese Gibson and Jordana Brewster, may receive an equally warm reception when it opens in America and other international markets on May 24. A total of 98 percent of audiences have given it the thumbs up when it comes to their desire to see it, and critics have so far awarded it a relatively impressive 78 percent rating.

"Faithful fans and passersby alike should be more than pleased by this superior piece of classical action craftsmanship," wrote Variety, while Film.com praised: "Has something for everyone, so long as everyone wants their action supercharged."