Fashion Friday: Clothes That Make You Look Thinner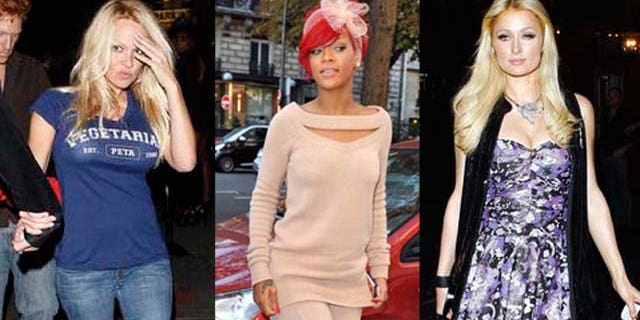 Attention ladies: As much as we (and diet companies) would like to believe that it's possible to melt away pounds in an instant, such a conviction is up there with Santa Claus and the Tooth Fairy.
But on the plus side, it is possible to look thinner just by getting dressed.

While your body may stay the same, if you're lucky, the clothes you put on it can instantly add or subtract 5-10 pounds. As a result, it's important to know what shapes and styles are the most flattering.
SLIDESHOW: How to Dress Thinner Instantly

It's What's Underneath that Counts

A perfect-fitting bra can help define your waist and make you look taller and slimmer by giving you the lift and support you need. Unfortunately, most women are missing out on these benefits as almost 8 in 10 women are wearing the wrong bra size. If you're spilling out of your cups, are experiencing discomfort, feel that your straps are too tight (or too loose) or have a gap between your cups, you are most likely wearing the wrong size.

It's a good rule of thumb to opt for underpinnings that are as invisible as possible (i.e. no lines or back bulges) which will make your figure appear smoother and more streamlined. To achieve this look, starts by hitting your local lingerie store, getting measured and stocking up on bras in your actual size -- it's one of the best investments you can make!


Rule an Empire
Empire waist dresses and tops flatter just about every shape. An empire shape is one that gathers near or just under the bust and then floats over the rest of the body. What makes this shape so flattering is that it's relaxed but still creates a clean line, it emphasizes the rib cage- a slim spot on almost everyone, and conceals the tummy.

Empires are probably one of the only shapes that can work for all figures. They can help balance out a super curvy frame and add shape to a shapeless one. Fit is key with this style, so make sure the garment grazes the body and doesn't cling too tightly or appear too flouncy.


Get Graphic
Graphic prints and patterns are a fun way to spruce up your fall wardrobe and can also instantly shave off a few pounds by camouflaging those problem areas and forcing the eye to rove. You can go for dresses with all-over prints or select separates to minimize specific areas. For example, a printed top to tone down a big must or patterned skirt to conceal large hips.

There are a lot of two-toned style dresses out there, either with a graphic printed top and solid bottom or vice versa, making it significantly easier to tone down and play up whatever areas you choose. A little secret to help you get it right is to remember that the taller you are, the bigger prints you can wear and patterns that are too teeny can make you look bigger.

Go Monochrome
Dressing head-to-toe in a single shade will create an optical illusion of added length. When you dress in contrasting shades, the eye sees blocks of color that can make you appear heavier and shorter. We all know that black is every girl's tried and true go-to when it comes to looking thinner, but light, neutral shades can also do the trick by smoothing out and concealing rough patches. Plus, they're more feminine and fun.

You don't need to stringently stick to one shade to get this right and can get the same results by teaming items of varying shades from the same color scheme together, like a white tank, peach blazer and beige pants.


Add Inches
Vertically speaking, a couple of added inches will naturally elongate your body and the longer your body looks, the leaner you will appear. A great way for achieving the long leggy look is to pair matching colors- like black pants or jeans with black heels, or bear legs with nude pumps.

Another amazing trick is to wear chunky platforms or wedges with wide leg pants (super-flared styles work too) which will give the illusion of added height and legs for days since you can't see the shoe. Just be mindful of the length of the pants- they should gently graze the floor rather than sweep it and break in the front so you and see the tip of the shoe.


Size Matters
Yes, fitting into a smaller size can feel amazing, but sizes are meaningless these days. First, every design house uses a different fit model to create their size chart, there is no one universal system. Second, brands are well aware of the feel good effect fitting into small sizes can have on women and as a result, clothes are getting bigger while the sizes written on the label are getting smaller.

Wearing a size too small can actually make you look heavier. Sure, you may have squeezed yourself into a tiny size but who cares if it is working against you? The moral of the story: size means nothing. The way clothes fits you, however, means everything.
Sabrina Newman is the editor of the fashion, beauty and lifestyle blog, ANewMode.com.