Faith Hill shares shirtless photo of Tim McGraw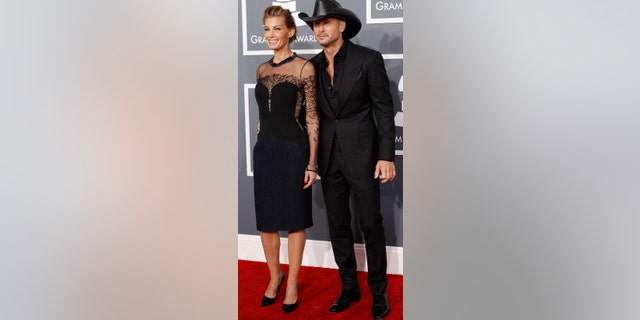 Faith Hill and Tim McGraw celebrated their 20th anniversary earlier this month and are clearly still having plenty of fun together.
Hill Instagrammed a photo of her husband washing her car shirtless on Sunday, and the country singer/actor wasn't afraid to get his hands dirty for his wife.
"My hubby gettin my ride ready to go see @adele in Nashville!!!!" Hill captioned the cute snap. "Yes, baby.....scrub those tires."
WATCH: EXCLUSIVE: Tim McGraw Says Daughter Gracie Is 'Way More Talented' Than Him -- 'She Doesn't Listen to Dad'
Hill and McGraw, both 49, recently celebrated a milestone in their relationship on Oct. 6, when they officially marked off 20 years of marriage. McGraw shared the sweet note Hill left him on the day of their anniversary, when she wrote "20 years" in a heart drawn in lipstick.
"Woke up to on our anniversary!!!" he captioned the photo.
In an interview with ET earlier this month, the couple said they were celebrating their special day in their typical low-key fashion.
"On the couch in our sweats," Hill said. "We're gonna binge watch something."
PIC: Tim McGraw Shares Amazing Throwback of His 'Extraordinary' Wife Faith Hill on Her Birthday
The couple met and fell in love on McGraw's Spontaneous Combustion tour, and McGraw told the story when the two were honored with their own stars on the Music City Walk of Fame in Nashville, Tenn., earlier this month.
"I had a really hot chick on the road with me," he joked. "And I fought, and I fought, and I fought to stay away from her as long as I could, and that lasted about as long as her job at McDonald's. I'm not gonna go into detail, but it was a great tour. I can tell you that."