Exclusive: Demi Moore, Madonna and Cameron Diaz Share Relationship Secrets in New Book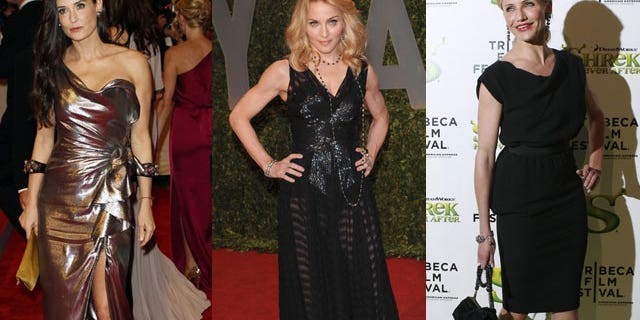 LOS ANGELES – Stars like Demi Moore, Madonna and Cameron Diaz might be better known for entertaining the masses in front of the lens, but these Hollywood A-listers have now put pen to paper and contributed handwritten notes to a new sex/dating/relationships advice book entitled "That's What SHE Said: Women Reveal What Men Really Need to Know," compiled by former "Punk'd" producer, T.J Jefferson.
So guys, want to know what it takes to get Demi Moore between the sheets?
"If you want to get our clothes off focus on what you're giving, not on what you can get! You may be able to score once – but we can smell the stink of selfish desires a mile away and are not interested," Moore wrote. "Women are caretakers by nature, don't take it for granted. The romance we are looking for comes from being appreciated."
Meanwhile, Madonna, of course, expressed her desire for female domination – but if you ever get the chance to get up close and personal with the "Material Girl,"don't forget to tell her she's hot.
"Women are here to smash man's ego, plain and simple. Accept this and life will be better," she scrawled. "Also women like it when men tell them they look nice. If you want more than that you will have to pay for it."
Even Elliot Spitzer's former call girl Ashley Dupre also offered her two cents in the quirky book, describing her ideal man as one who is just a big softie at heart.
"I love a guy who listens to me, who understands how I am feeling and just gets me. I love a guy who is not afraid to be open. Who speaks his mind even if he thinks it's corny," Dupre contributed. "I love mush. I love a man who has that vulnerable side but at the same time also has that male protector instinct. I would say to men to be yourselves – there is a woman out there who will love you for who you are."
The book, with a foreward written by Ashton Kutcher, also offers words of wisdom from Cameron Diaz who enjoys "losing herself in wonder of love, beauty and sexiness" while still keeping it real, Lake Bell who was quick to state that "PUSHY (guys) suck ass," and 80's sitcom starlet Soleil Moon Frye who claims quite simply: "We like it dirty just like you…"
So how on earth did Jefferson's idea for the book actually come into fruition?
In 2003, he received a present from one of his girlfriends, a book called "Everything Men Understand About Women." Upon opening it, he found 100 blank pages. The message was clear – men know NOTHING about women. This spurred Jefferson to go straight to the source (women) to find out exactly what men need to know, and over the years began asking friends and strangers to fill in the blank pages of his journal.
"It's a fun read, but you can find something in there that can really help your relationship and stop you from sleeping on the couch that night," Jefferson (who also peppers the book with some light-hearted opinions) told Pop Tarts. "I wanted to be understanding toward what the girls said, but I had to get a jab in there because we guys took quite a beating."
And while a slew of stars had their say on a range of issues from fighting to sexting, Jefferson didn't disregard the average American.
"You've got people like Madonna giving advice in the book,, but then you've got housewives in the mid west and teachers and nurses, I wanted to make sure everyone had their voice heard," Jefferson added. "It might be hard for someone to relate to what Madonna is saying, but most of us can relate to everyday people, people that aren't famous and aren't in the spotlight – they need to be heard as well."