Exclusive: Britney Spears Struggling to Control Kids Amid Abuse Allegations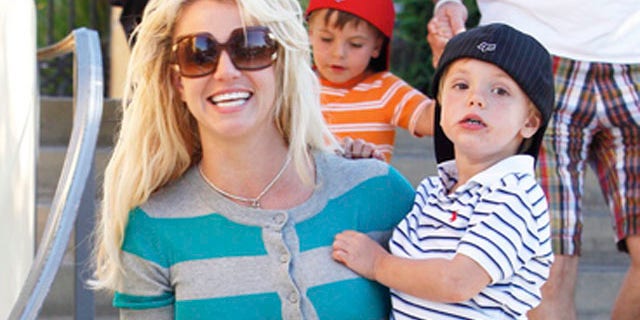 LOS ANGELES – Britney Spears may be one of the biggest pop stars in the world, but in spite of her fame and fortune, it seems she is incapable of avoiding reports of turmoil in her personal life.
We're told the 28-year-old's eldest son, Sean Preston, who turns 5 this month, is a well-behaved child, unlike his brother Jayden James, 3, whom Spears is struggling to control.
"He's a really wild child, gets into everything and really upsets Britney," an insider told Pop Tarts, adding that Spears often just has to hand him to her nannies to take over.
But it's not just a rowdy child giving Spears a headache these days, as she is facing some very serious allegations of abuse. Her former bodyguard, Fernando Flores, who worked for Spears earlier this year, filed a lawsuit against her for sexual harassment and intentional infliction of emotional distress in the Los Angeles Superior Court on Monday.
In the compliant, Flores claims to have suffered severe "damages in an amount to be proven within the jurisdictional limits of this court" over having witnessed Spears allegedly abuse her sons. In one incident, Flores claims that Spears requested he removed his belt before she proceeded to "savagely hit" the small child. He also claims that on another occasion Spears was having sexual relations at a hotel while the children were in the room with her, and another time told her sons "Mommy is WHITE TRASH!" According to Flores, "the boys asked what that meant, however he was too ashamed to tell them."
Furthermore, Flores, who is married, claims to have "suffered psychological damage" by the star's "repeated unwanted sexual advances." In the compliant, he recounts multiple incidents in which Spears exposed her naked body, and engaged in "numerous sex acts" in front of him. Flores also alleges that he complained to other defendants associated with Spears, but his complaints were constantly ignored or mocked.
A rep for Spears did not respond for comment.
However, rumors surrounding Flores's allegations initially surfaced in June and sources close to Spears told Pop Tarts that, at that at least back then, she wasn't concerned with Flores' very serious accusations.
"Britney may have been a little out of control herself sometimes, but never would harm her babies, never in a million years would she hurt them," said the insider.