EXCLUSIVE: Bombshell McGee Kicked Out of VMA Party Over Nazi Tattoos, Source Says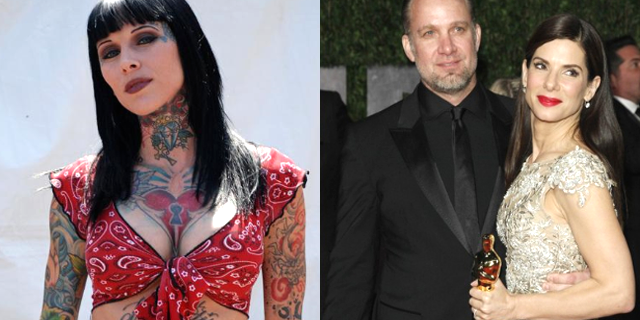 The first mistress named in the Tiger Woods cheating scandal, Rachel Uchitel, is basking in the limelight with a spot on the popular reality show "Celebrity Rehab" and an upcoming appearance in "Playboy."
But it seems the same can't be said for Jesse James's first outed mistress, Michelle "Bombshell" McGee.
An insider at the House of Hype Pre-VMA party told Pop Tarts that the 24-year-old stripper, one of several women who James allegedly slept with while married to actress Sandra Bullock, crashed the high-profile party, which was held at a private Beverly Hills residence on the weekend, and made sure to take advantage of the freebies on offer.
"Michelle was not smiling and stayed to herself, she almost had a snobby attitude. She was strutting around, acting all annoyed because she wasn't getting any attention," dished our source. "But when the bar opened she made sure to be one of the first in line. She was one of the first guests to arrive and people were making comments about how she was there. People were very stunned by her presence and slightly uncomfortable."
In fact, guests became so uncomfortable with her Nazi-symbol tattoos (McGee has been photographed with a swastika on her stomach and the initials "WP," reportedly for "white power," on the back of her legs), that the party coordinators, after receiving many complaints, had security escort her out.
"Michelle was hopping mad, and not happy by the situation," said our source. "It was obvious that she was aware why she wasn't welcome."
McGee did not respond for comment. She has in the past said the initials "WP" stand for something sexual, and has denied she is a Nazi or a racist.
But before getting the boot, James's ex reportedly took advantage of a press opportunity and wished her former flame the very best with his new love, Kat Von D.
"There are no hard feelings towards Jesse," she told OK! magazine at the party. "I just always wish him the best with Kat and everything."