Ex-Disney star Orlando Brown arrested in his underwear by bounty hunters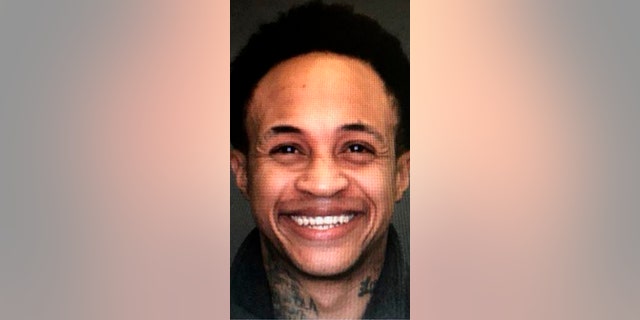 NEWYou can now listen to Fox News articles!
Former Disney star Orlando Brown has been arrested on an outstanding warrant by bounty hunters, TMZ is reporting.
Lucky the Bounty Hunter and his team raided a Las Vegas residence where Brown was staying and arrested him early Friday morning.
According to the outlet, the actor was due to appear in court regarding an alleged assault case filed by his girlfriend last year.
He had a warrant out for his arrest after he failed to appear in front of the judge, TMZ reported.
CLICK HERE TO WATCH THE ARREST VIDEO
In the bizarre video obtained by TMZ, the bounty hunter and his team barge into the home and, after a few minutes, find the actor in his underwear.
As the hunting team is making its way through the house, the homeowner yells, "Get off my property! I have a right to defend my family and my home!"
Lucky assures the homeowner that he has the required documentation to conduct the search and quickly proceeds to the second floor, where he and his team find Brown, clothed in a T-shirt and boxers, hiding in a bedroom closet.
Lucky then arrests the "That's So Raven" actor after tackling him on the ground. As he is being escorted out of the house, the star, who seems confused by the arrest, pleads with the bounty hunters and says, "What is this? You guys can talk to me, man, this not cool."
The star repeatedly says he has just "talked to the police."
Toward the end of the video, Brown is escorted into a vehicle, where cops ask if he has any drugs on him. Brown replies, "No, I don't do drugs, man."
In the final shot of the video, Lucky informs Brown that he was being picked up and arrested for a list of outstanding warrants and was being transported back to L.A. County.
According to the homeowner, he let Brown stay in his home as a favor to a music producer friend who lived in the neighborhood.
He reportedly got nervous about having Brown in his house after the actor's significant other showed up the day before and informed the homeowner that he was harboring a fugitive.
TMZ also reported that the owner of the home is now angered by the intensity of the raid and claimed that during the process, his door was damaged and his shoulder injured.