Ewan McGregor's daughter Clara calls actor's girlfriend a 'piece of trash'
It seems like Clara McGregor has neither forgiven nor forgotten her dad Ewan McGregor's girlfriend.
Clara's mother, Eve Mavrakis, filed for divorce from the "Star Wars" actor in January, months after it was revealed he had an affair with his "Fargo" co-star Mary Elizabeth Winstead, 33.
The 22-year-old commented on Winstead's fan Instagram page that she is a "piece of trash."
McGregor wrote from her verified account, "Most beautiful and talented woman on earth? (laughing faces) Oh man y'all are delusional. The girl is a piece of trash."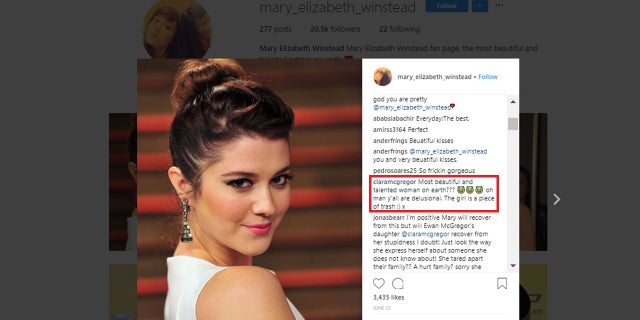 NEWYou can now listen to Fox News articles!
The 47-year-old McGregor's other daughter, Esther, 15, also spoke out about her dad for leaving her mom after 22 years of marriage.
In January, Esther posted a video of herself singing a song she wrote called, "Made You a Man."
WARNING: The following video contains graphic language
"Seeing those pictures, they're making me cry," she sings, seemingly in reference to paparazzi pictures of her dad caught kissing Winstead in October.
"I don't know to forgive. I don't know if I can. Ruining me sure made you a man."
She added, "Happy birthday to me, am I right?" The photos were published by The Sun on Esther's birthday.
Perhaps Esther has since forgiven her dad as she posted a picture with him on Friday for the first time since the affair news broke.
McGregor and Mavrakis married in 1995 and share four daughters.