Even when putting best foot forward, rockers stick said foot in mouth at 12-12-12 concert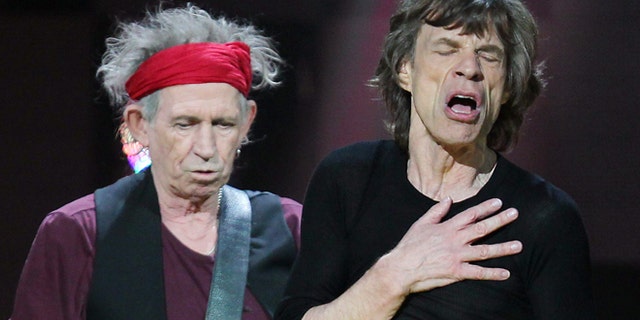 NEW YORK – Though the rock legends at the 12-12-12 concert for Sandy relief Wednesday night were giving their time and performances for free, and trying to be on their best behavior, some still managed to get themselves trouble at the charity show.
Mick Jagger's humor fell flat on the televised benefit show, when he downplayed the devastation of Superstorm Sandy with one of his jokes.
"This has got to be the largest collection of old English musicians ever assembled in Madison Square Garden," he said. "But if it rains in London, you've got to come help us, OK?"
The line quickly became a hot topic on social media sites, with many fans tweeting they were offended by the comment.
"Is it just me or was that a totally insensitive comment by Mick Jagger?" one user posted. "Sandy was more than 'a little rain.'"
A source close to Jagger told FOX 411 the rocker wasn't too bothered by the negative reactions.
"It was a joke. At this point, Mick is very thick-skinned. He cares a great deal about causes, and the last thing he would ever want to do is make fun of a disaster."
Still, Jagger wasn't the only one who put his foot in his mouth at the show.
Roger Daltrey dropped the F-bomb during The Who's performance of "Who Are You."
"Tell me who you are," he sang. "I really want to know. Who the f**k are you."
But it wasn't just wrinkly rock heroes taking heat on the live telecast. Later in the night, show host Brian Williams proved he didn't know the answer to Daltrey's profane question when he confused the members of the rock band.
Williams mistook Pete Townshend for Keith Moon—the band's long dead drummer.
"Someone might want to tell Brian Williams that the guitarist in The Who is not Keith Moon [and] that Keith is no longer with us," one user tweeted.
The all-star concert also featured Bruce Springsteen, Jon Bon Jovi, Alicia Keys and Paul McCartney among others.
The nearly six-hour charity concert raised more than $30 million for victims of Superstorm Sandy in ticket sales alone.
FOX 411's Hollie McKay contributed to this report.