Eva Longoria says she was the 'underachiever' in the family until she got her master's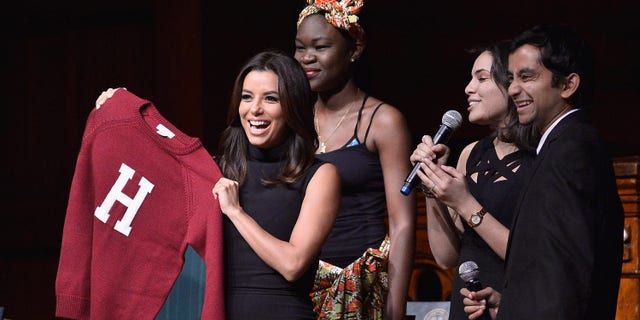 Despite having a top-rated TV show in "Desperate Housewives," it was not enough for Eva Longoria's family — they considered her an "underachiever" because she was the last one to get her master's degree.
"I said to my mom, 'Loo', and she said, 'Right, when are you getting your Master's?'" Longoria told a crowd at Harvard University over the weekend, recalling her mother's emphasis on education.
The actress, producer and philanthropist, who was honored with the Artist of the Year Award at Harvard, said her family placed such importance on education throughout her life that it wasn't until she received her master's degree in Chicano Studies from Cal State Northridge in 2013, that she made her mom proud.
The 39-year-old Texan native used the event to urge students to use the opportunity they have been given to make the world a better place and applauded the Ivy League school's efforts to increase cultural diversity.
"I've kind of lived my life straddling the hyphen of being Mexican-American," Longoria said. "I kind of just sit on that hyphen, you know – navigating loving enchiladas and apple pie, loving mariachi music and Britney Spears. But there are so many moments in my life that were memorable to that experience of being a hybrid, of being a hyphen."
She said her family would often take trips across the border into Mexico and she wondered why they were able to use a shorter line to get back into the U.S., while others had to wait longer.
"(My dad) said they were born on the other side – el otro lado – and I said, 'Dad, why were we born on this side?' and he said, 'Luck,' and I never forgot that," Longoria revealed. "And I never forgot how important it was to be an American."