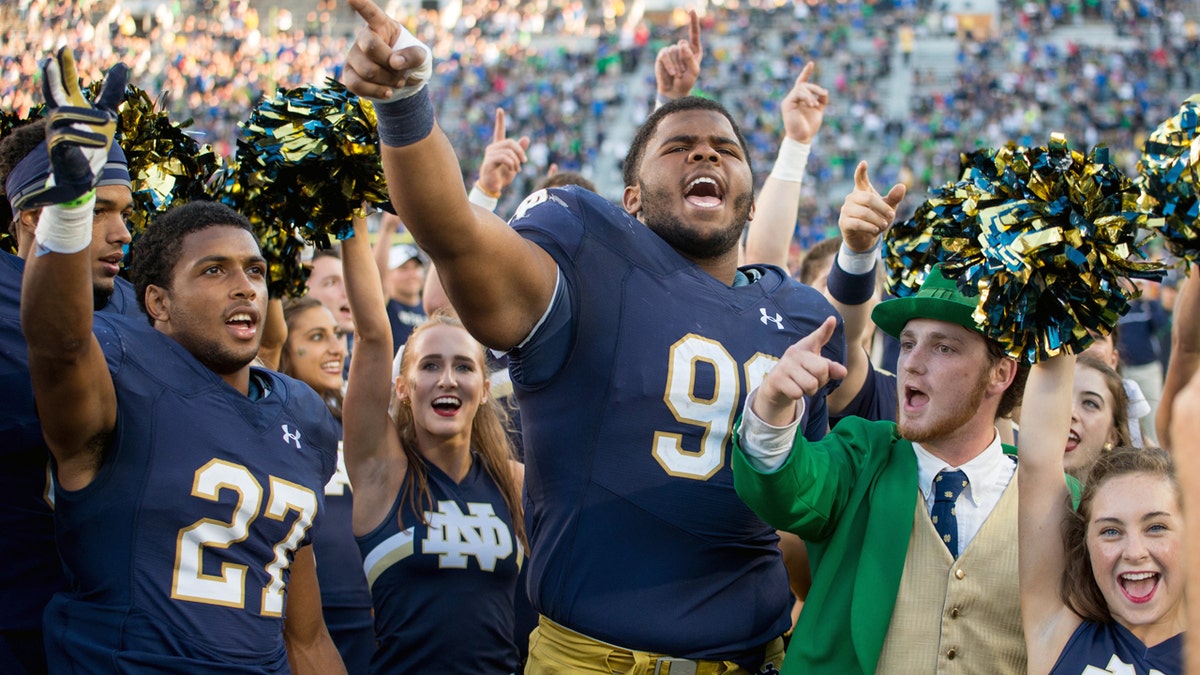 Now that the Cleveland Indians have dropped their controversial "Chief Wahoo" logo, should Notre Dame's athletic teams cease to be called the Fighting Irish and abandon the Leprechaun mascot?
"The answer," ESPN host Max Kellerman said Tuesday, "is yes."
Kellerman made the comments on ESPN's morning debate show "First Take," which he co-hosts with Stephen A. Smith.
CLEVELAND INDIANS WILL ABANDON CHIEF WAHOO LOGO NEXT YEAR
Kellerman, who also works as a boxing commentator on HBO, admitted that "many Irish-Americans are not offended" by Notre Dame's nickname and symbolism, "but many are."
"Pernicious, negative stereotypes of marginalized people that offend even some among them should be changed," Kellerman said. "It's not that hard."
Former ESPN and current MLB Network host Brian Kenny, the son of an Irish immigrant, tweeted support for Kellerman's stance.
"For all saying 'they've never met a single Irishman offended': The Notre Dame mascot is an embarrassment," Kenny said.
According to Notre Dame's official website, "Fighting Irish" was adopted as the school's official nickname in 1927. However, unconfirmed stories suggest the moniker dates as far back as the late 1890s and early 1900s.
"The most generally accepted explanation is that the press coined the nickname as a characterization of Notre Dame athletic teams, their never-say-die fighting spirit and the Irish qualities of grit, determination and tenacity," the website explains, before adding, "The term likely began as an abusive expression tauntingly directed toward the athletes from the small, private, Catholic institution."
Major League Baseball announced Wendesday that Indians players would not wear Chief Wahoo on their uniforms beginning in the 2019 season, when the city will host the All-Star Game. The red-faced cartoon with a big-toothed grin and feather headband won't disappear from merchandise, however, and some Indians fans consider the logo to be an iconic feature of the team.
The Associated Press contributed to this report.