Enrique Iglesias on his famous father: 'I've tried to separate our professional lives'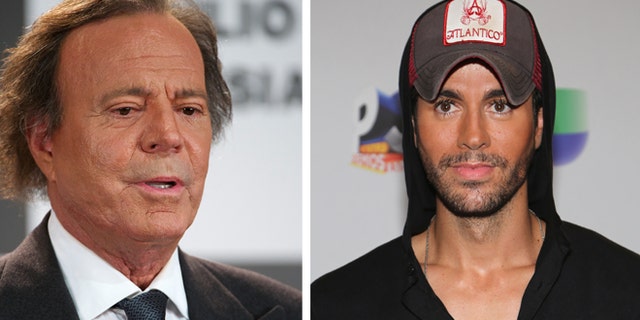 Enrique Iglesias says fans expecting a duet between him and his famous father Julio Iglesias should not hold their breath unless they have the best song possible.
The Spanish singer told People en Español that while he is working on a new album and has recently had megahits with the likes of Wisin and Nicky Jam, a song with his father is not in the works – at the moment.
"It will depend a lot on the song – I don't know. It's not in the plans," Iglesias told the magazine. "Today, there is no plan to do anything together. For me it would be a great honor but the moment has to be right and the song must really serve us both."
He added: "I have tried to separate our professional lives, but you never know for tomorrow. It would be an honor to sing with my father."
In his cover story, the younger Iglesias also opened up about having to grow up in the shadow of his father's fame.
"I saw fame very closely; I saw the good things and the bad things of fame," the 40-year-old Iglesias admitted.
Iglesias said that while he calls Miami home, traveling around the world to perform has become a part of his DNA.
"I have sung in Turkey various times [and] right now Turkey is going through a very difficult moment," he said. "There are many artists who have cancelled concerts in that part of the world. For us, it's important to continue to visit those places as long as it's not dangerous."
He continued: "What I tell my band is that even at home there is danger. We live of this. To travel around the world and be able to go to a place like Turkey during a difficult time and give a concert is something every important to me. It's a country that could use some positive attention instead of negative."
Like us on Facebook
Follow us on Twitter & Instagram