Eminem says Trump makes his 'blood boil,' hopes he 'gets impeached'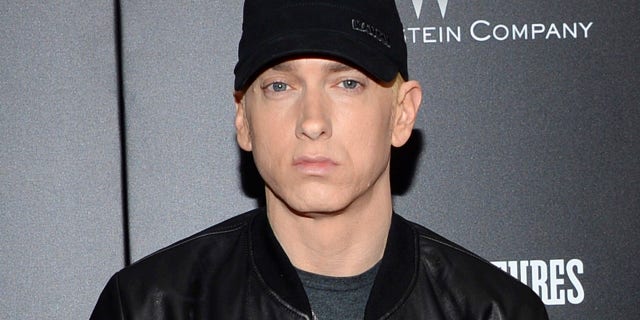 Eminem has lashed out again at President Trump, saying in an interview with Vulture that he hopes the president "gets impeached."
When asked by the outlet how he hopes the presidency carries on in 2018, the rapper replied, "I hope he gets impeached. I'd be there for that."
The comment came just days after his latest album, "Revival," was released on Dec. 15 and weeks after the rapper released a video blasting the president.
The rapper, known for his punchy and often explicit lyrics, told Vulture that Trump "makes his blood boil" and his lyrics focused on the president are meant to "get a message out."
"I can't even watch the news anymore because it makes me too stressed out," he said. "I want our country to be great too, I want it to be the best it can be, but it's not going to be that with him in charge."
EMINEM BLASTS TRUMP AT BET AWARDS
Eminem went on to call Trump's election "a disappointment" and told Vulture that his politics were dividing Americans. He also argued that the president, "who's never known struggle," has deceived people into believing that he's fighting for them.
"He's very good at flipping narratives," the rapper said. "I just feel mad that Trump's sold people a dream that's never coming true. I want the division in this country to stop. And like I said, I most want people to take a second and think about what I'm saying."
When asked by Vulture whether he and the president have any similarities, noting their potentially over-lapping fan bases, the rapper said their differences were "bigger than any parallels."
EMINEM 'EXTREMELY ANGRY' TRUMP DID NOT RESPOND TO HIS FREESTLYE RAP BASHING
"I actually don't know if I can see why people who relate to me feel like they can relate to him," Eminem told the outlet. "This is a guy who was born rich, who says he got a small loan from his father of a million dollars. Where I come from, a small loan is five f****** dollars."
This isn't the first time the rapper has blasted the president. At the BET Awards in October, Eminem released a pre-recorded rap video against Trump. But when he never got a response, he told the Shade 45 radio show that he was "extremely angry" and felt like Trump wasn't "paying attention" to him.
But should Trump feel compelled to respond to Eminem's latest criticisms, the rap star said he has a few choice words prepared.
"I'm not going to give any away now, but I've got lines ready if he says something about me," Eminem said.