Eminem says Trump 'duped' Americans: A 'turd would have been better as president'
NEWYou can now listen to Fox News articles!
Eminem is doubling down on his criticism of President Trump.
It's been three months since the track "The Storm" was released during the BET Hip-Hop Awards, and the 45-year-old rapper is standing by his scathing remarks against the commander-in-chief.
Eminem told Billboard on Thursday that he has the "artistic license" to express himself and that he is the "polar opposite" of Trump.
"When I [put out 'The Storm'], I felt that everybody who was with him at that point doesn't like my music anyway. I get the comparison with the non-political-correctness, but other than that, we're polar opposites," he said.
EMINEM BLASTS TRUMP AT BET AWARDS
Eminem, whose real name is Marshall Mathers, added that he believed Trump "duped" Americans into thinking the business mogul was the best candidate to become president.
"I know that Hillary [Clinton] had her flaws, but you know what? Anything would have been better [than Trump]. A f---ing turd would have been better as a president," he said.
Eminem called Trump's rhetoric "disgusting" and "divisive."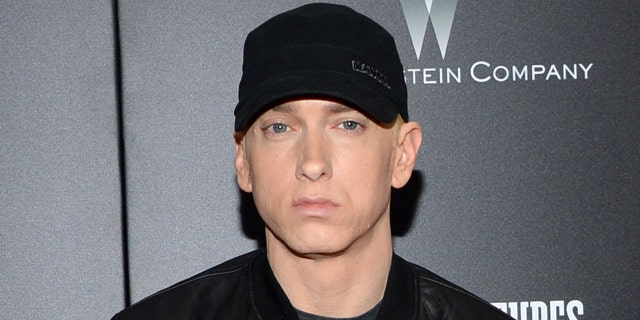 "The Charlottesville s---, just watching it going, 'I can't believe he's saying this.' When he was talking about John McCain, I thought he was done. You're f---ing with military veterans, you're talking about a military war hero who was captured and tortured. It just didn't matter. It doesn't matter. And that's some scary s--- to me," the 45-year-old rapper said.
When asked about losing some of his fans because of his Trump criticism: "Then, so be it"
"Because I feel like I stood up for what was right and I'm on the right side of this. I don't see how somebody could be middle class, busting their ass every single day, paycheck to paycheck, who thinks that that f---ing billionaire is gonna help you."
EMINEM SAYS TRUMP MAKES HIS 'BLOOD BOIL,' HOPES HE 'GETS IMPEACHED'
In "The Storm," Eminem attacked the president for his response to the NFL kneeling controversy and the handling of the North Korean crisis.
"This is for Colin, ball up a fist," he says while standing in a Detroit parking lot. "And keep that s--- balled like Donald the B----."
Eminem also attacked Trump in a Vulture interview, saying the president made his "blood boil." He also lashed out at Trump in a nine-minute freestyle called "Campaign Speech" in 2016.