Emily Ratajkowski flaunts her bikini body in Mykonos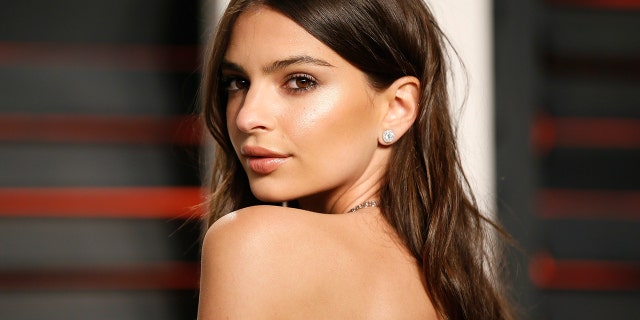 If there's anyone who loves to proudly show off her assets, it's Emily Ratajkowski.
The 27-year-old model, who skyrocketed to fame after appearing in Robin Thicke's NSFW music video for his hit 2013 single "Blurred Lines," descended on the Greek island of Mykonos Sunday to celebrate the launch of the shopping boutique complex Nammos Village.
And to celebrate the sun-soaked season of summer, Ratajkowski took to Instagram, where she shared snaps of herself modeling an itsy-bitsy polka dot bikini while on a yacht.
"Really vibin with Greece tbh," she captioned one of her photos.
But it wasn't all just play for Ratajkowski. A rep for Nammos Village told Fox News Monday the cover girl was joined by fellow supermodel Gigi Hadid to cut the ribbon for the space, as well as lead a fireworks display.
Singer Nicole Scherzinger, who chose Nammos' opening night for her 40th birthday celebration, was one of many attendees, along with fashion influencers and other models.
Guests partied until dawn to the sounds of Fat Moss, as well as Nammos' own resident DJ, an insider told Fox News.
But Ratajkowski hopes audiences will recognize her for more than just being a pretty face. On her Instagram account, she lists herself as a feminist. And in 2017, Ratajkowski told Harper's BAZAAR Arabia it's hypocritical to judge a woman just because she chooses to openly celebrate her body and sexuality.
"I think a lot of people really feel that the idea of a woman being sexual or being sexualized is the opposite of feminism," she explained. "When I feel like, in some ways, that conversation itself can be oppressive to women, because you're telling them how to dress and how to act, which is actually the opposite of feminism."
But Ratajkowski wasn't always so confident about herself. As a child, she struggled to accept her changing figure.
"I was a 12-year-old [with D-cup breasts] but people looked at me as a 21-year-old," she said. "It was really difficult for me to understand and to come to terms with – that identity, people's perception of me… It's hard for a 12-year-old girl, who is basically feeling like 'Why don't you just leave me alone,' because I don't see men having to justify what they wear or how they express themselves."
Ratajkowski insisted she received some no-nonsense advice from her mom, which she still follows today.
"She told me, 'Wear whatever you want, do whatever you want, it doesn't matter, that's just your body and that's who you are so it's not your issue,'" recalled Ratajkowski. "There was an acceptance there."