Ellen DeGeneres almost joined wife Portia de Rossi on 'Arrested Development'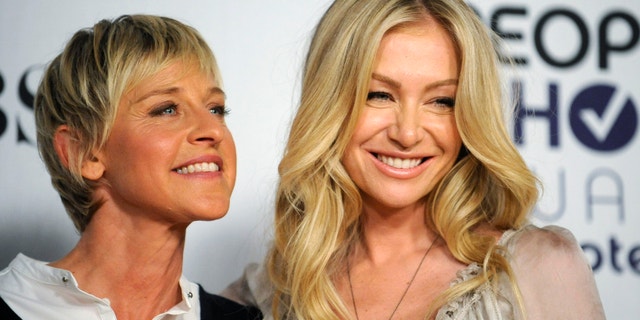 NEWYou can now listen to Fox News articles!
Fans of the newly-revived "Arrested Development," will see an array of guest stars in its fourth season, which premiered on Netflix on Sunday. Everyone from Seth Rogen to Kristin Wiig to Ben Stiller and Liza Minnelli are present in various episodes in season four.
And Ellen DeGeneres almost was too.
"Mitch [Hurwitz, creator] wanted her to be a part of this but it didn't come to fruition," DeGeneres's real-life wife, Portia de Rossi, who plays Lindsay Bluth, told FOX411's Pop Tarts column at last week's Los Angeles Confidential magazine's "Real Beauties" issue launch party, in which she graces the cover. "But I would want her to play herself."
On that note, de Rossi insisted she had few similarities to her hilariously greedy and materialistic character, although her choice of roles is starting to become a cause for concern.
"God I hope [we aren't too alike.] We're both blonde. But it's one of things I worry about," she admitted. "I keep playing these self-absorbed kind of shallow people. Ugh."
But that's not stopping her from counting her blessings to be back in Bluth mode.
"It felt like a gift," she insisted. "Nobody gets to resurrect a character that they put to bed seven years ago, and for it to be this anticipated and still have this fan base still dying to see what we come up with now is incredibly exciting."
And even though the show's cult-like viewers were deprived of "Arrested Development" for several years, the true lovers never stopped showing their support.
"When I was doing my book tour and it was a serious subject matter," de Rossi added, referring to her 2010 memoir "Unbearable Lightness" which detailed her severe eating disorder struggles. "One of the girls showed up to get her book signed wearing the 'Sl*t' t-shirt from 'Arrested Development.' It was funny because it was so out of context and she was so proud of it. It was funny to people who knew where the joke was from."
Danielle Jones-Wesley contributed to this report