E! to keep Kardashian empire in house, adds several new shows in planned network expansion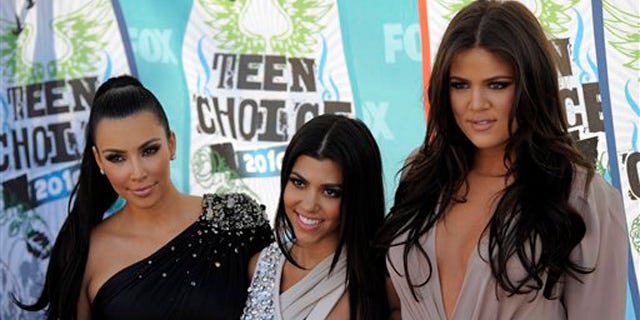 NEW YORK – The Kardashians' television neighborhood is getting a refurbishing.
The E! Entertainment network has expansion plans that include a new music series from "American Idol" producer Nigel Lythgoe, a reality series with the oldest member of the Jonas Brothers and a talk show starring Whitney Cummings.
E! is also sticking with what works, announcing last week a new three-year deal to keep the Kardashian reality TV empire in-house for three more years.
"You'll see us keep our fun and keep our attitude," said E! President Suzanne Kolb. "I think you'll see us be a little broader. We feel like E! is to pop culture what ESPN is to sports, and I think we need to fully realize that."
E! is part of the NBC Universal group of cable networks, which have been enormously profitable for parent Comcast Corp. The network has a strong brand name and good distribution, so it has potential to grow its revenue, said Derek Baine, an analyst for SNL Kagan, a company that researches the economics of TV networks.
While E! is growing, it's not at the level of fellow NBC Universal networks like USA and Bravo. USA is averaging 2.33 million viewers so far this television season, Bravo has 992,000 and E! stands at 649,000, according to the Nielsen company.
The most high-profile attempt to broaden E!'s offerings comes on July 9 with the premiere of Lythgoe's "Opening Act." Each week producers will pick an unknown musical act that has posted work online, surprising the artist with the chance to open a concert for acts like Rod Stewart, Brad Paisley and Nicki Minaj. The series, which features Mary J. Blige, follows the acts as they prepare and execute the potential career-changing gigs.
In August, E! premieres "Married to Jonas," featuring Nick Jonas and Danielle Deleasa, a hairstylist in training who met the musician while they were both vacationing in the Bahamas two years ago. The series depicts the couple juggling work and family and is being produced by Ryan Seacrest.
The two programs are a targeted choice; E! executives consider music one area of entertainment the network has been deficient in following.
"MTV and VH1 have moved away from their core a little bit and that has provided opportunities for people like us to expand ours," Kolb said.
While E! is not getting into sports, it has increased its news coverage of athletes.
Part of the reason is to attract more men. Typically, the E! audience runs 60-40 percent female, and Kolb would like to even that out a little more. That's also some of the thinking behind a more "gender-neutral" design of network graphics that will debut on the same day of "Opening Act," Kolb said. Men are also more interested in E!'s topical programming like "The Soup," and Cummings' new series will follow "The Soup" on Wednesday nights.
Titled "Love You, Mean It with Whitney Cummings," it's a talk show with celebrity guests and sidekick Julian McCullough.
Another California family getting the reality show treatment is actor Clint Eastwood and his wife, Dina, a former television anchor. "Mrs. Eastwood & Company," which begins on May 20, also features the actor's two daughters and a singing group that Dina discovered on a trip to South Africa and is now managing.
Hugh Hefner will need to look elsewhere for exposure because E! is dumping Playboy-oriented programming like "The Girls Next Door," Kolb said.
E! generally finishes among the top 15 of networks among its target audience of people aged 18 to 34, and Kolb said one of her goals is to move into the top 5. The network generally gets solid circulation -- a healthy number of people tune in for one show or another -- but not enough people stay around to watch other shows, she said.
"There is quite a bit of brand love," she said. "We just need them to come over more."
The network is increasing its original programming so viewers see fewer reruns, she said.
"We have taken a look at what is working for us and what areas we can improve upon and we're taking action on that," Kolb said. "For us, this is more of an evolution than a repositioning."