'Duck Dynasty' season 4 recap: Martin looks for romance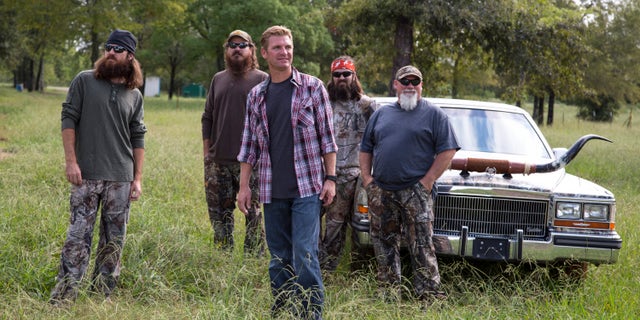 The fish may not have been biting, but the love bug certainly was.
The men of "Duck Dynasty" were wrapping up an unsuccessful fishing trip when family friend Justin Martin made a stunning announcement: He was planning on skipping the weekly Friday night poker game with the boys.
"I may or may not have a date tonight," said Martin–who is known by only his surname.
Martin's declaration was immediately met with skepticism.
"Is it Mothers' Day?" asked Willie Robertson. "Is she a United States citizen?" questioned Jase Robertson. "Did you get her on mail order?"
The disbelief continued back at Duck Commander headquarters, where Jase in particular had a hard time believing that Martin–not exactly the most dapper of gentlemen–had managed to score an actual date with a "new, young lady friend."
"I've known you for 10 years," Jase told Martin as he fidgeted with a duck call. "This is the first time I heard a woman come up."
Meanwhile, Willie's wife Korie and Jase's wife Missy visited Duck Commander HQ to give Martin some dating advice.
"All you have to do is be yourself," Korie counseled Martin.
"That's terrible advice," countered Willie. "He can't be himself– that's like throwing him to the wolves!"
Undeterred, Korie had faith in Martin's ability to woo, "Martin is such a sweet guy. Any girl would be lucky to have him."
Sweet or not, Korie decided that Martin's wardrobe needed a bit of a makeover, "Let's face it, he dresses like a seventh grader who hasn't yet discovered deodorant."
Korie and Missy ordered Martin back to his wood-paneled, taxidermy-filled home to try and find an outfit that did not involve trucker hats or camouflage.
Willie, who had never been inside Martin's house, described his decorating style as "a mix between the Brady Bunch and that killer from 'Silence of the Lambs.'"
While Martin was busy trying on various outfits for Korie and Missy, Willie and Jase snooped around their friend's house.
"This is not normal," said Jase, pointing out a large pile of mismatched socks. "I think there's something wrong with his feet."
"Maybe they're webbed," Willie opined from the comfort of Martin's leather recliner.
Picking up one of many framed photos of Martin scattered throughout the house, Willie noted, "No adult male should have this many pictures of themselves."
"All I'm seeing is huge piles of dirty socks and embarrassing photographs," added Jase. "It's a bit creepy and weird."
The boys bravely moved on to Martin's kitchen. "You can tell a lot about man's condition by looking at his fridge," said Jase, marveling at a box filled with dozens of plastic takeout packets. "Look at all this mustard!"
Slightly flabbergasted by the state of Martin's house, Jase declared, with more than a hint of disgust, "There comes a time in every man's life when he's got to put his bachelor days to rest."
Meanwhile, Korie and Missy tried to convince Martin that a pink striped button-down shirt was a winning look. "You look like a software salesman," snorted Willie.
Martin was OK with the shirt, but he loathed the idea of getting rid of his camouflage topper.
"You gotta lose the hat," insisted Korie.
"Have you seen this hair?" protested Martin.
Reluctantly, Martin removed his hat to reveal a matt of messy, curly hair atop a balding head. "Be careful what you wish for," sighed Willie.
Back at the office, Martin showed off his date outfit, which consisted of the aforementioned pink shirt, khaki pants and no hat. "You look like a hairy Easter egg," cracked Jase.
Nevertheless, Willie and Jase's Uncle Si seemed somewhat impressed with Martin's new look. "The women are trying to turn him into Channing Tatum," he mused.
While the majority of the Robertson clan busied themselves with Martin's makeover, patriarch Phil was teaching three of his granddaughters the finer points of fishing.
One of the girls reeled in a nice-sized catfish, but she wasn't too keen on cleaning and eating it. "We can't eat him," she protested. "He has brothers and sisters out there!"
Eventually, Phil was able to convince his granddaughter that the fish belonged on the table, not in the creek, and he was getting ready for Sunday dinner when Martin showed up, post-date.
"You got a story?" barked Phil. "Did you take my advice?" asked Willie.
"I took none of y'alls advice. I was myself," said Martin, with a hint of pride.
"OK, I think that's what I told him to do," chirped Korie. "Martin, you did good!"
"And now I won't be at poker next week, either," Martin said, smiling.
That must have been some date!
After the show aired, Martin tweeted about his love life, and it seems like things have been going pretty well for him.