Donald Trump's Hollywood Walk of Fame star destroyed with pickaxe
Donald Trump's star on the iconic Hollywood Walk of Fame has been smashed to bits.
On Wednesday morning, news broke that Trump's star on the famous Hollywood walkway was destroyed. The Daily Beast reported that the star had been smashed with a pickaxe overnight.
According to the Associated Press, Los Angeles police Officer Ray Brown said the star vandalism was reported around 3:30 a.m. on Wednesday and a man has since been taken taken into custody. Brown did not offer any other information on the vandal suspect.

KUTV's reporter Ron Bird tweeted a video from the scene showing a completely bashed slab where the president's star used to be. Trump was awarded his Hollywood Walk of Fame honor for his work as the creator and host of the reality series "The Apprentice."
But this isn't the first time Trump's star has taken a hit. Back in 2016, right before the real-estate mogul was elected President of the United States, his star was defaced.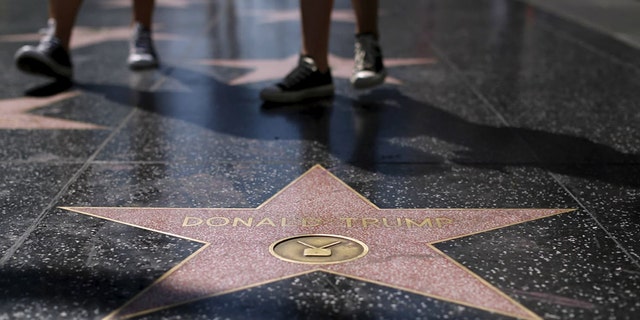 According to TMZ, the vandal scratched off Trump's name and his television icon, which appeared on the face of the star. Deadline Hollywood reported that a man by the name of Jamie Otis took credit for destroying the star. He told the outlet that his intent was to auction off the removed parts of the star to raise money for the legal defense of Trump accusers.
The star was also defaced another in February of 2016 and spray painted with a swastika.