Donald Trump Wants Lindsay Lohan on 'Celebrity Apprentice'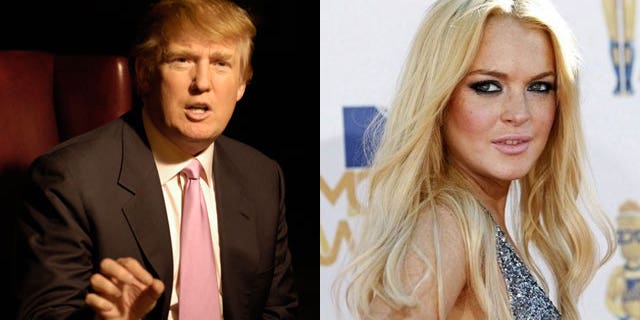 U.S. actress Lindsay Lohan was approached by property tycoon Donald Trump to star in the next season of the U.S. version of "Celebrity Apprentice," the New York Post reported Thursday.
The troubled starlet -- who claimed her alcohol-monitoring SCRAM device was set off Sunday night when someone spilled a drink on her at the MTV Movie Awards -- was considering an offer to appear in the NBC hit if filming fit around her movie career.
Her mom, Dina Lohan, said: "Donald is a friend of the family, and producers of 'Celebrity Apprentice' have approached Lindsay to appear in the next season. She's deciding if she wants to do it or not, but she currently has three films in production, so she's very busy."
NBC refused to comment, saying it was "too early to talk about casting" because filming would not start until late this year. "They are in advanced talks with Lindsay and Dina, but a lot depends on what happens with Lindsay's legal issues," a source said.
"She was at the MTV Awards and somebody spilled a drink on her leg, which must have set off the SCRAM bracelet. She has done absolutely nothing wrong and shouldn't have to wear the bracelet in the first place. She is doing absolutely fine," Dina Lohan said.