Dolly Parton: America has lost its 'morals, principles and values'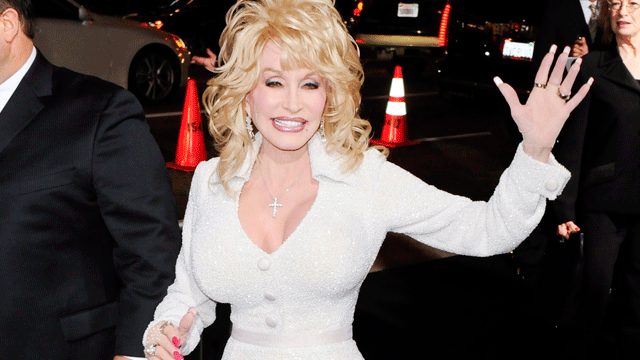 Dolly Parton is back on the big screen, starring alongside Queen Latifah in the Gospel-driven "Joyful Noise." But the country music legend insisted that there is more to the movie than just music and a good time.
"The film is uplifting and I want people to go away feeling better than they did when they got here, because times are hard right now. Everybody's been feeling a little scared and a little down, and the economy has been bad and people don't know what to think. We just seem to have lost all our morals and principles and values these days," Parton told FOX411's Pop Tarts column at the film's Hollywood premiere on Monday night. "People are looking for something a little more stable; people are feeling like they need to get closer to God. So (the movie has) got a lot of heart, a lot of soul. It's about community, it's about pulling together and it's about believing in something bigger and better than you."
Set in the small, struggling town of Pacashau, Georgia, "Joyful Noise" – which opens in theaters on Friday – tells the story of the Divinity Church Choir's quest to lift the community's spirits by winning the National Joyful Noise Competition. However, the discord between its two leading ladies threatens to destroy that dream.
Parton said working on the faith-based film brought her closer to God.
"I always ask God to work through me, and let me be a light of some kind and help in this world, so I always pray for that and I always want to do good," she continued. "We're all just a bunch of sinners, but we do the best we can. He works through people in His own way, and I always ask him to let me be a blessing to people."
The "9 to 5" sensation credits her strong belief system for all of success. And at the age of 65, with eight Grammy Awards and 25 single or album releases certified as either a Gold, Platinum or Multi-Platinum record, the Queen of Country Music remains optimistic that there are still several boxes left to tick.
"I believe those scriptures and I believe that through God all things are possible. Christ strengthens me, I remember all those things and I use them. I lean on that," Parton said. "I wake up every day and new dreams present themselves to me – new plans and new opportunities. I dream big, I work hard, and I'm sure there will be tons more things for me to do."
Rather than making a movie she was less than proud of, Parton said she waited almost two decades before returning to a film set.
"The last movie I did was more than eighteen years ago, but I haven't had anything else good come along," she explained. "But all the movies come to me; I have never asked for a movie, they always come at the right time. I just prayed that I would have something good to do, and this came at a good time."
There was another bonus to this project – Parton was reunited with her longtime pal, the legendary Kris Kristofferson, who has a small part in the film.
"I was excited about him being in it, I love him. Different names were thrown out, but when I heard Kris I thought 'why not?' People love him, he is great onscreen and a great movie star," she added. "We've known each other since we were both very young in Nashville."