Documentary To Highlight Life Of Chicano Movement Journalist Ruben Salazar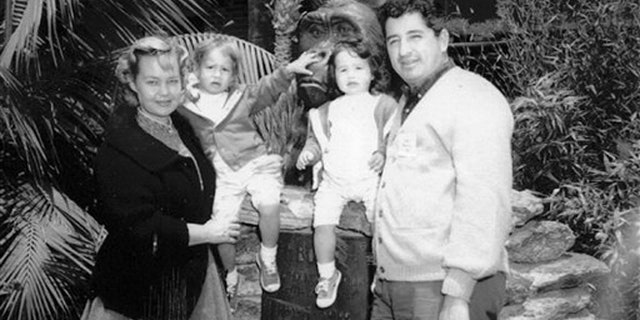 LOS ANGELES (AP) – Many people consider Mexican-American journalist Ruben Salazar a martyr of the Chicano Movement after he was struck by a tear gas projectile fired by a sheriff's deputy during a 1970 riot in Los Angeles.
A new documentary that focuses not on Salazar's notorious death, but rather his life, shows how he questioned his own cultural identity as he moved in and out of Mexican and American worlds.
The nearly hour-long film "Ruben Salazar: Man in the Middle," which will air Tuesday on PBS, details the life of the Los Angeles Times journalist through photographs, videos and interviews with his relatives, friends and colleagues.
The documentary does not address Salazar's death, which many believe was an intentional killing. Director Phillip Rodriguez pored over eight boxes of documents, photos, and videos filed with a lawsuit against Los Angeles County before reaching the conclusion that Salazar's death was an accident, but does not mention this in the film.
"We didn't (find) the smoking gun," Rodriguez told the Associated Press.
Salazar was born in Mexico City and raised in El Paso, Texas. During the 1960s, he worked as a war correspondent in Vietnam for the Los Angeles Times and later headed the newspaper's bureau in Mexico City. In 1969, he returned to Los Angeles, where he wrote about the Chicano movement that sought to empower Mexican-Americans. After a year, he became news director for KMEX, a Univision station in Los Angeles.
In the film, Salazar is shown living a middle-class lifestyle with his wife Sally, who was white, and shuffling between Anglo- and Latino worlds. He lived in Santa Ana, which at the time was a predominantly white, middle-class suburban community in Orange County.
"My father led a completely Anglo life. He was a professional. He was part of the establishment", said his daughter Stephanie Salazar Cook.
Salazar's voice can be heard in the film through his diary, which his family lent to Rodriguez. In it, Salazar writes of his own cultural duality, confessing that "this has been the dilemma of my life: confusion of what I am."
"Why do I always have to apologize to Americans for Mexicans and to Mexicans for Americans?" he wrote. "There's no such thing as a real Mexican-American. The hyphen strips both words of meaning."
Salazar died at age 42 on Aug. 29, 1970, in a bar in East Los Angeles where he had stopped after covering a protest over the high number of Mexican-American soldiers killed in the Vietnam War. The demonstration turned violent and sheriff's deputies suppressed the crowd. One fired a tear gas projectile inside the bar, which struck Salazar.
A federal grand jury found the death was an accident, despite speculation by some that Salazar was targeted to be killed.
Rodriguez reached the same conclusion after reviewing the materials filed with the lawsuit by the Mexican American Legal Defense and Educational Fund. But he said he didn't dwell on it in the film because he wanted the documentary to focus on Salazar's life.
"His (death) became a metaphor for the struggle of the (Chicano) Movement but in doing so, in some ways they erased him and the nuances of an individual and my job was to rescue the man from mythology and place him into history. That's was what I was attempting to do," Rodriguez said.
The documentary, which also features an interview with the deputy who fired the projectile, may not be the last word about Salazar's death. There are still documents that the FBI and other agencies have not released, which Rodriguez said he is seeking.
Follow us on twitter.com/foxnewslatino
Like us at facebook.com/foxnewslatino