'Divergent' Nets $56 Million In Opening Weekend; Lionsgate Cleans Up With Young Moviegoers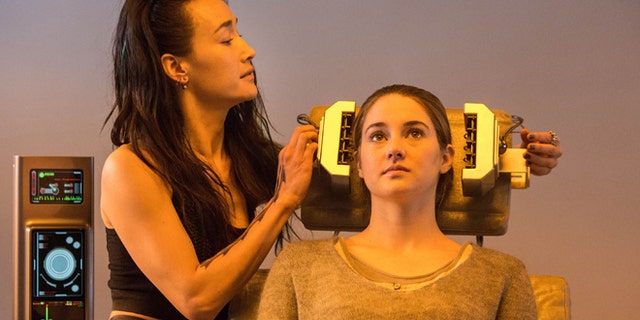 NEW YORK (AP) – To go with "Twilight" and "The Hunger Games," Lionsgate now has a trio of young-adult franchises with the box-office leading "Divergent."
The teen science-fiction thriller starring Shailene Woodley debuted with $56 million over the weekend, according to studio estimates Sunday. The opening, while less than some anticipated, launches Lionsgate's third franchise built on young-adult best-sellers.
With an audience 59 percent female and half under the age of 25, "Divergent" lured young moviegoers with dystopian drama and an upcoming star. "Divergent," though, fell well short of its forerunners: "Twilight" opened with $69.6 million in 2008, and "The Hunger Games" began with $152.5 million in 2012.
Richie Fay, president of domestic distribution for Lionsgate, called it "a great beginning for another franchise for the company." A sequel is already in the works.
"The key to the success of these franchises is finding the difference and marketing it," said Fay. "It's not easy. And I think we're doing it better than anyone else right now, frankly."
In the rush to adapt popular young-adult fiction, Lionsgate has succeeded where many others have floundered. "Divergent," made with a budget of $85 million from Veronica Roth's best-sellers, follows less stellar results from youth-focused films like "The Mortal Instruments: City of Bones," ''Vampire Academy" and "Beautiful Creatures."
Paul Dergarabedian, senior media analyst for box-office tracker Rentrak, calls the "Divergent" debut a "three-peat" for Lionsgate in a challenging genre that defies "cookie-cutter, assembly line" development.
"They make it look easy," says Dergarabedian. "You're chasing probably the most fickle audience in the world. They can change their minds on what's cool in the blink of an eye."
Disney's Muppets sequel "Muppets Most Wanted," with Ricky Gervais and Tina Fey, fared poorly, earning just $16.5 million over the weekend. "The Muppets," opened notably better with $29.2 million in 2011, benefiting from the high-profile reboot starring and co-written by Jason Segal.
Dave Hollis, head of distribution for Disney, acknowledged the result was disappointing and somewhat "head-scratching" considering advance tracking had suggested "Muppets Most Wanted" would draw bigger crowds.
"There certainly was something in the last Muppets — not having anything available for fans for a while — that satisfied pent up demand that we didn't have the benefit of this time around," Hollis said.
The family film market was also more competitive than expected, as 20th Century Fox's animated "Mr. Peabody and Sherman" has held better than anticipated. In its third week of release, the film — tops at the box office last weekend — slid to third with $11.7 million.
Studios often seek out late March release dates for family-friendly movies to benefit from spring break vacations. So "Muppets Most Wanted," made for $50 million, could still eke out more at the box office.
The surprise of the weekend was the strong performance of the independently released "God's Not Dead," made to appeal specifically to faith-based audiences. It came in fifth with $8.6 million, despite playing on just 780 screens.
The performance of "God's Not Dead" further proves the strong faith-based market for movies, one historically underserved before the runaway success of Mel Gibson's "The Passion of the Christ."
Next week, Paramount Pictures' "Noah," directed by Darren Aronofsky and starring Russell Crowe, will attempt to cross over to mainstream audiences with a Bible tale. Opening early in Mexico and South Korean, "Noah" got off to a strong start overseas, earning $14 million.
Expanding from 66 to 304 screens, Wes Anderson's European caper "The Grand Budapest Hotel" continued to pack theaters in limited release. It earned $6.5 million in its third week of release, with further expansion planned.
And though the crowd-funding of the big-screen edition of cult TV show "Veronica Mars" drew much publicity for its successful Kickstarter campaign, the movie has proved only of interest to devoted fans. On 347 screens, it made just $144,000 for Warner Bros., bringing its two-week total to $2.9 million.
___
Estimated ticket sales for Friday through Sunday at U.S. and Canadian theaters, according to Rentrak. Where available, latest international numbers are also included. Final domestic figures will be released Monday.
1. "Divergent," $56 million.
2. "Muppets Most Wanted," $16.5 million ($1.5 million international).
3. "Mr. Peabody and Sherman," $11.7 million ($11.4 million international).
4. "300: Rise of an Empire," $8.7 million ($21 million international).
5. "God's Not Dead," $8.6 million.
6. "Need for Speed," $7.8 million ($29.2 million international).
7. "Grand Budapest Hotel," $7 million ($9.6 million international).
8. "Non-Stop," $6.3 million ($14 million international).
9. "The Lego Movie," $4.1 million ($4.5 million international).
10. "The Single Mom's Club," $3.1 million.
Follow us on twitter.com/foxnewslatino
Like us at facebook.com/foxnewslatino