'Rio 2' Director Carlos Saldanha Gives A Taste Of His Native Brazil And The Amazon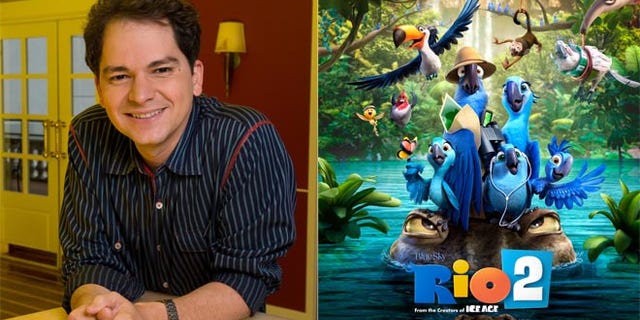 When conceiving the first installment of "Rio," writer and director Carlos Saldanha wanted to give viewers a taste of his native Brazil — the culture, the sounds, the flavor, all through the fresh eyes of Blu, a blue macaw raised and domesticated in Moose Lake, Minnesota.
"(It) was all about that foreign eye to Brazil," Saldanha told Fox News Latino. "When you come for the first time, what do you expect? What is the culture? They have very little idea of the culture."
In "Rio 2," out in U.S. theaters on April 11, the 49-year-old director takes Blu and his family – a fiercely independent blue macaw, Jewel, and their three children – on a trip into the unknown: the Amazon forest. They are looking for more blue macaws like them.
"It was awesome (to get back to filming and writing)," Saldanha said. "We didn't have much of a break with this one and the other one so it was the continuation of that joy of making the movie."
He said after the first installment he felt he had much more to tell, motivated to give fans more of Brazil than just Rio or Copacabana.
"Brazil is not just Rio," Saldanha said. "We wanted to tell a good story in a location you've never been to. It comes with the same energy… It's going to feel as vibrant but it's going to be a different flavor and I think it's the uniqueness of it."
The story starts when Blu, voiced by Jesse Eisenberg, and Jewel (Anne Hathaway) find out that there are more blue macaws in the Amazon and they decide to take a family trip into the wild forest. Along for the ride are old friends Pedro (will.i.am) and Nico (Jamie Foxx), and nemesis Nigel (Jermaine Clement).
They meet some new friends along the way, including Jewel's father and aunt, voiced by legendary actors Andy Garcia and Rita Moreno. Jewel's former crush, Roberto, voiced by singer Bruno Mars, also makes an appearance for a little drama.
"When you find a cast that you really connect with and a cast that really connects with the project, it's a special thing," Saldanha said.
Mars, who recently shined on the Super Bowl halftime show, plays a sensual blue macaw with a golden voice. Saldanha said he picked him for the role after watching him on Saturday Night Live — he loved him so much so, he said, that he changed the idea of the character of Roberto to fit his voice.
As to working with Garcia and Moreno, the director said it was unforgettable.
"When you work with people of that caliber it just elevates the characters and elevates the movie," he said. "It was just amazing just to see how much joy they had making it and I had working with them."
And that is exactly what Saldanha wants viewers to feel when they go to the theater — an unforgettable experience of the sounds, colors and spirit of Brazil. And just a lot of fun.
Follow us on twitter.com/foxnewslatino
Like us at facebook.com/foxnewslatino