Did 'The Conjuring' couple hide creepy, real-life affair between demonologist and underage girl?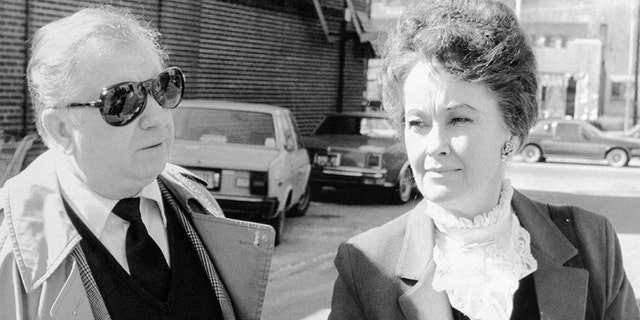 NEWYou can now listen to Fox News articles!
The real-life demonologists that "The Conjuring" horror film franchise is based on may have been keeping a creepy secret.
The Hollywood Reporter revealed on Wednesday that legal filings and recordings they obtained show top studio executives of the movie franchise were made aware of allegations that Ed Warren (depicted by Patrick Wilson) initiated a relationship with an underage girl with his wife Lorraine's (Vera Farmiga) knowledge.
THE 15 SCARIEST MOVIES OF THE LAST 15 YEARS
"The Conjuring" movies tell the story of a married couple of paranormal investigators who work together to help people terrorized by ghosts and demons.
Judith Penney, now in her 70s, reportedly said in a sworn declaration she lived in the Warrens' house as Ed's lover for four decades. She said the relationship started when she was just 15.
The magazine noted it's unclear whether Warner Bros. took any action in response to the allegations. 2016's "The Conjuring 2" depicts the Warrens as a happy couple in a conventional marriage.
An attorney for the studio claimed in court papers that a disgruntled author and a producer are suing over profits from the franchise and are spreading rumors as part of "a vendetta."
Ed died in 2006 and Lorraine Warren's attorney, Gary Barkin, claimed the family had no knowledge of the allegations. Barkin told The Hollywood Reporter that Penney wasn't Ed's secret lover.
"The Warrens opened their home to Ms. Penney when she was 18 and had nowhere else to live following a childhood of neglect," wrote the attorney. "During much of their career, Ed and Lorraine were on the road, working on cases and giving lectures – and Ms. Penney lived and watched their house."
Lorraine, now 90, is suffering from declining health, her lawyer said. Penney is reportedly not involved with the litigation over the films.
The Hollywood Reporter said Ed Warren was in his mid-30s when he allegedly first met a teenage Penney. At the time he was working as a city bus drive in Monroe, Connecticut to make ends meet.
In a legal declaration she provided in November 2014, Penney claimed she and Ed began "an amorous relationship" and by 1963, she moved into the Warrens' home where she allegedly had a sexual relationship with Ed.
In 1963, Penney was arrested after a concerned citizen reported her relationship with Ed to local police, according to the Hollywood Reporter. She eventually was ordered by the court to attend a delinquent youth office for a month. Penney insisted Ed would pick her up from school every week and then drive her to the mandated meetings.
To cover their tracks, the Warrens allegedly claimed she was a either a niece or a poor girl they had taken in out of charity. Penney alleged that in 1978 she became pregnant with Ed's child, but was persuaded by Lorraine to have an abortion to avoid public scandal, which could result in the end of their successful ghost hunting business.
Penney also said Ed was abusive to Lorraine.
"Sometimes Ed would actually have to slap her across the face to shut her up," claimed Penney in a recording. "Some nights I thought they were going to kill each other."
Penney said her relationship with Ed ended in 2003 and she eventually married. Still, she allegedly remained friendly with Ed until his death.
"As I'm older now, I can't even fathom why Lorraine let me stay there," she said in a recording. "Lots of times I think about, 'Why did I do this? Why did I screw up my life like this?' Sometimes I get angry thinking about it, how so much was taken away from me."