Did Demi Lovato diss Ariana Grande with patriotic song at MLB concert? She denies it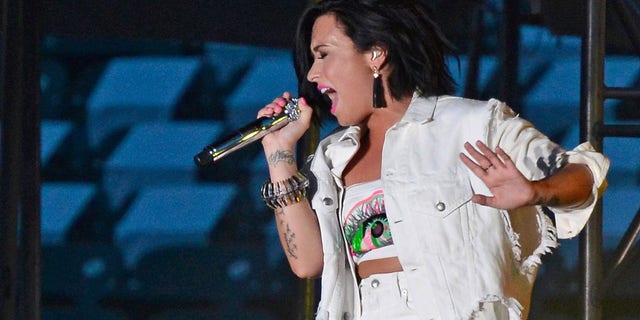 Was it an innocent song choice or did Demi Lovato throw some major shade at Ariana Grande over the weekend?
Lovato was chosen to perform at the 2015 MLB All-Star Game concert Saturday night taking her 2013 single "Made in the USA" to the stage.
The powerful performance had some fans asking if the former Disney star was throwing some shade at Grande, who was originally scheduled to perform, but unceremoniously pulled after making headlines when she was caught on tape saying "I hate Americans. I hate America."
Lovato took to Twitter to set the record straight on her song choice.
"Didn't get to sing 'Made in the USA' on the 4th because I was singing #COOLFORTHESUMMER. No shade – stop the bulls**t," the 22-year-old singer wrote. "I know it's a little late but I didn't get to sing this song on the fourth."
During the concert in Cincinnati she also reportedly asked the crowd, "How many of you guys are proud to be an American?"
Lovato said on Twitter that she always asked that question when she performs the song.
"Can't yall let a girl shine for one night? Smh," she added.
While many speculated that Grande pulled out of the show because of the backlash over her video, she and MLB were adamant that oral surgery was the reason.
Grande has since apologized for her comment in the video.