Designer Sylvie Cachay Found Dead in Oscar Winner's Son's Hotel Room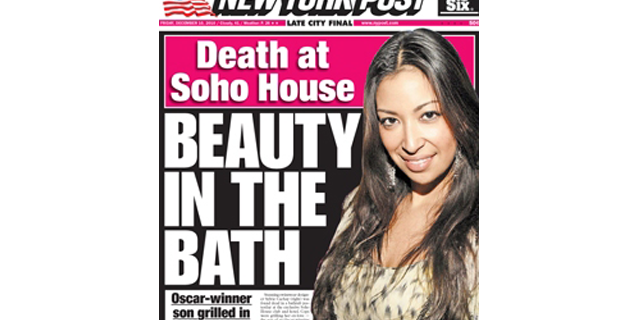 The bruised body of a beautiful swimsuit designer was found splayed and half-naked in an overflowing bathtub at the exclusive Soho House club and hotel yesterday, and cops are grilling her ex-boyfriend -- the son of Oscar-winning composer Joseph Brooks, an accused sex fiend.
Sylvie Cachay, 33, had wounds on her neck that suggested strangulation, bleeding in her eyes and a bite mark on her hand, police said.
But an official cause of death wasn't expected until today.
The animal-loving founder of the Syla swimsuit line was found by hotel staffers just before 3 a.m. after guests on the two floors below complained of water leaking through their ceilings.
Cachay was pronounced dead a half-hour later.
Nick Brooks, whose father -- the composer of "You Light Up My Life" -- was indicted this year on 82 counts of sexually abusing starlets, remained at the Sixth Precinct station house last night for questioning. Sources told The Post that Brooks had not yet hired a lawyer.
"It's incredible," Cachay's grieving mother, Sylvia, said at the door of her home in McLean, Va.
"She was an artist. She was a painter. Everything was perfect.
"You know the stories with everything that's perfect. It doesn't seem real yet."
A day before her death, Cachay told co-workers she broke up with the unemployed, 26-year-old Brooks, police sources said. The pair had been dating for about six months.
Although the couple was seen palling around on Wednesday, a neighbor said they fought constantly and had a huge blowout in Cachay's West Village pad hours before she died.
"I heard them fighting and he yelled, 'You really hurt me,' " said Judy, who lives directly below Cachay's apartment.
Judy, who declined to give her last name, was twice interviewed by detectives.