Debbie Gibson Dishes on 'Summer of Dreams,' Reveals Whether She Kept All Those Bowler Hats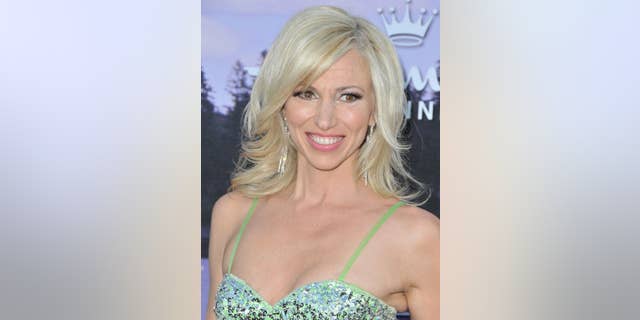 NEWYou can now listen to Fox News articles!
If there's anyone who can play a pop star who gives up fame to teach music to children, it's Debbie Gibson.
Back in the day (the '80s, to be exact), Gibson was the ultimate pop princess, soaring to the top of the charts with self-penned dance hits at the age of only 16. The teen idol would go on to sell more than 16 million albums worldwide, and even enter the Guinness Book of World Records as the youngest female ever to write, produce and perform a No. 1 single ("Foolish Beat.").
Despite all of her success, the "Electric Youth" singer parted ways with Atlantic Records just a few years later at age 21, and later went on to launch a career on Broadway. She also spent some time teaching classes at summer music camps, and now she's drawing inspiration from her real-life experiences for a brand-new TV movie for the Hallmark Channel, titled "Summer of Dreams."
In the film, viewers are introduced to Debbie Taylor (Gibson), a former pop star who moves to suburban Ohio to teach music to a talented group of misfit kids. Ring any bells?
Just in time for the film's debut, Fox News Magazine spoke exclusively with Gibson about her new project, as well as her feelings on today's pop princesses. In keeping with the theme of her film, Gibson also shared the no-nonsense advice she has for aspiring singers:
FNM: What made you want to be a part of a film like "Summer of Dreams"?
DB: Well, it was an initial idea that I brought to Hallmark Channel. It's really been in the making for about six years, from the time that I got that initial idea. I always felt like, on one hand, if you're an actress, you want to do things that stretch and challenge you, like what I did on Broadway's "Cabaret." But why not create something that only I can do? This story certainly isn't autobiographical, but there are autobiographical elements to it. I wanted to do something that played to my strengths, where people who grew up with me can see parts of my personality. It shows that show business isn't glamorous. Careers go through ups and downs, twists and turns. And if you're not in show business, you can relate with the idea that life is always surprising us.
FNM: How much of this film was based on your life?
DB: There were several parallels, for sure. For example, it was about 15 or 16 years ago and I was promoting a Korean karaoke microphone on television, which was a fun endorsement. And at some point, I was asked to promote it in Costcos around the country. One weekend I'm flying to perform for 10,000 screaming fans, and the next weekend I'm promoting this microphone at a Costco. Sometimes it was for just a small handful of people that happened to be there. In the movie, you see me performing, and you think I'm doing this huge concert, but it turns out that I'm actually singing at the opening of a mattress store.
In real life, when I was on Atlantic Records, at a certain point they wanted me to go in a creative direction that I didn't want to go. They wanted me to go urban, and I was like, "Right … because 'Lost in Your Eyes' is so urban!" I could have gone in that direction, but I always saw myself as a more melodic pop girl. That wasn't who I was. In real life, me and Atlantic Records parted ways. I walked away from millions of dollars, and they were like "We don't know how to promote the kind of music you want to make." But in the film, the label gets taken over by a young kid and I get dropped.
FNM: You recorded an acoustic version of your 1987 hit "Only in My Dreams" for the film. What was that like?
DB: It was really cool because I perform the more upbeat dance version of it all the time. But when I tried it in a lower tone, it felt so different and fun. I knew I was going to kick myself if I didn't record a version of this. I then called Hallmark and told them I felt it would be much more impactful to include this version in the film. It also marks how evolved the character has become by the time you see it. It felt really great because the lyrics aren't so cut and dry. In fact, the kids in the movie would ask me, "What does this mean?" I turned it on them and said, "What does it mean to you?" The lyrics could mean anything you want it to be. It's funny, "Only in My Dreams" came out at the end of summer 30 years ago, so it's been such a full-circle moment for me.
FNM: Does it ever get tiring to perform your songs from the '80s?
DB: It never does. I'm the original writer and artist. I'm standing in front of these people who grew up with these songs and there's always this mutual excitement happening because of that. While there are some people from that time period who've seen me live, there's actually many who haven't. They always come up to me and say, "I waited 30 years to see you!" For some people, it's really the first time hearing those songs live. No, I never get tired of that. If anything, I'm always so excited for the audience. As a music fan, there's really nothing like seeing the original artist performing their original songs. Like when Dolly Parton sings "I Will Always Love You." It always raises goosebumps. I will never get tired of hearing Richard Marx singing "Right Here Waiting."
FNM: The image of a female pop star has changed over the years. What's your take on it?
DB: It's funny because I've always felt that people like me and Tiffany were kicking doors down, which was amazing, but slightly exhausting. I feel like now it's such an accepted thing to be a young female artist who embraces her sexuality. I think it's great because there's no big awkward transition. For people like me and Tiffany, fans never wanted to see us wear anything sexy because it was like they were holding on to their childhood and innocence through us. That's an enormous amount of pressure to put on a teenage girl, because teenage girls eventually turn 20 and embrace their sexuality. I think, oddly, it's a lot better now. But still, someone else who had it really tough was Miley Cyrus, because people grew up with her through the Disney show and wanted her to keep that role. And honestly, no one is ever exactly the same little girl as an adult. Yes, you have elements of it, but you also find your own identity.
FNM: Who's a female pop star you admire these days?
DB: I think Gaga is so unbelievably talented. Even during the early days I always heard that voice. When she did "The Sound of Music" at the Oscars, it was like everybody woke up. For me, if you take Barbra Streisand, Bette Midler, Madonna, and you roll them all into one, and you add this extra fearlessness, you get Gaga. And as fearless as Madonna is, she always looks so glamorous and feminine. Gaga doesn't care if she looks feminine, masculine, pretty or not — I think she's just so exquisite. And Demi Lovato blows me away. I could warm up for the rest of my life and never sing as well as Demi Lovato. I think it's just a really great time for females in pop music.
FNM: Whatever happened to all those bowler hats you made famous in the '80s?
DB: My life lives in a couple of storages at this time. One is in New Jersey, the other in L.A. I live in Las Vegas now and I'm always like, "Where are my hats?" People always ask me, "Did you ever keep 'Electric Youth' perfume?" I have one broken bottle. I have some tour costumes, the jacket from the "Electric Youth" tour that used to light up in the back. But the hats? If they're not in New Jersey or L.A., I'm at a loss!
FNM: You've been open about your personal battle with Lyme disease. How is your health these days?
DB: I feel 80–90 percent better. Tests show that I'm actually clear of Lyme. There's always a debate on whether Lyme stays in your system or not. I can tell you I don't feel that feeling anymore. And it's a very distinct feeling. It feels like your body has been hijacked. It's awful. Now, I'm still dealing with some stamina-rebuilding and dietary sensitivity, but the episodes are fewer, which is awesome.
FNM: What advice would you give to anyone who wants to launch a music career?
DB: The good news is that today, you can make videos from your bedroom, post them on YouTube, and people will see them. When I started, I had to go play clubs four nights a week to get peoples' attention. But let the music lead the way. A lot of young people make the mistake of just wanting to be a social media presence before having the goods. You have to train. Singing in front of your friends and family may be good, but once the ball gets rolling, you need to have technique to keep yourself healthy, vocally. Write, and if you don't consider yourself to be a writer, but you have ideas, collaborate with people. Create your own identity in the music business. You can be like me and sing the same songs 30 years from now. So you'd better like them.