Danny Trejo's comedic nod to 'The Brady Bunch' among the Super Bowl's biggest ad hits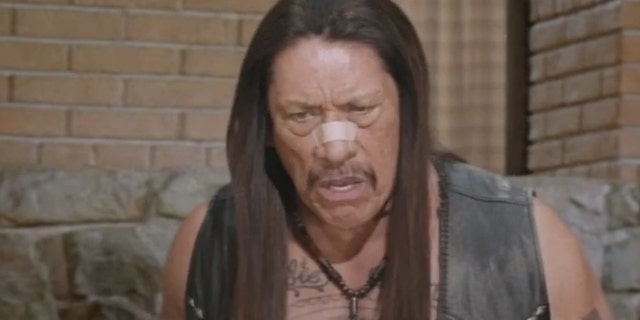 NEWYou can now listen to Fox News articles!
"Machete" star Danny Trejo channeled his inner teenage girl in a 30-second ad for Snickers, helping to make it one of the winners of Sunday night's Super Bowl advertising game.
The ad recreates the famous "Brady Bunch" episode in which oldest daughter, Marcia, gets hit in the nose with a football.
Trejo plays an agitated Marcia, continuing the Snickers theme that people aren't themselves when they're hungry.
The kicker comes when the camera cuts to actor Steve Buscemi, standing on the familiar Brady staircase, reciting middle sister Jan's "Marcia, Marcia, Marcia" line.
"This isn't about you, Jan," says Florence Henderson, who played Carol Brady.
Buscemi runs away shouting, "It never is!"
Advertisers tried to win over Americans during the game — some tried serious themes, while others went with humor. With 30-second ads costing $4.5 million for the chance to market their brand to 110-plus million Americans, advertisers were taking a big bet. Here were some of the winners and losers.
WINNERS
Budweiser: Sticking to its winning formula of puppies and Clydesdales, Anheuser-Busch's ad shows a Labrador puppy chasing after the iconic Budweiser Clydesdales as they are being moved to a new stable. The song "I'm Gonna Be (500 Miles)," performed by Sleeping at Last, plays in the background.
Chevrolet: The auto maker was a surprise hit before kickoff with a spot that appeared to be a live game feed that suddenly turned to static and then a blank screen. It turned out to be an attempt to highlight the Chevrolet Colorado's 4G LTE WiFi, allowing people tolivestream the game in their car.
Esurance: Two Esurance ads showed actress Lindsay Lohan being a "sorta" mom and Bryan Cranston as his "Breaking Bad" character Walter White being a "sorta" pharmacist to show when it comes to car insurance "sorta" doesn't cut it.
Fiat/Chrysler: Chrysler scored with three spots. For an ad promoting Fiat's 2016 Fiat 500 crossover vehicle, they chose to show an older Italian couple getting frisky in the bedroom. When the man's "blue pill" goes flying out the window, it lands in the gas tank of a Fiat, causing nearby women to give the car a second glance. A voiceover says the new Fiat is "bigger, more powerful and ready for action."
McDonald's: The fast food giant's spot feature a promotion in which it will randomly select customers to pay for their orders with acts of love, like a high-five or a call to a relative. The promotion starts Monday and runs through Feb. 14.
Nationwide: "Mindy Project" star Mindy Kaling walks around New York believing she is invisible and doing scandalous acts, including sitting naked in Central Park and going through a car wash. Then she tries to kiss Matt Damon but he can see her. The idea being that Nationwide doesn't treat you like you're invisible.
LOSERS
Nationwide: In one of the most serious ads of the night, the insurance company showed a boy riding a school bus and lamenting that he'll never learn to fly, or travel the world with his best friend, or even grow up, because he died in an accident. The ad for Nationwide was aimed at stopping preventable childhood accidents.
"The intention of that ad was very good, but it's just playing with fire focusing on an adolescents' death in the context of the Super Bowl," said Charles Taylor, marketing professor at the Villanova School of Business in Pennsylvania, who tracked viewer feedback.
Weight Watchers: The weight-loss services provider portrayed a Big-Brother like montage of, donuts, pizza and other junk food with an ominous voiceover saying "You gotta eat, right?" The tagline was, "It's time to take back control."
The goal was to promote its weight loss services, but some thought that the deeper message was lost. It was one of the ads getting the most negative feedback, according to Taylor. "Some people are saying it made them want to eat more than anything," he said.
Valeant Pharmaceuticals: The ad for a toe fungus treatment showed animated toes playing football, but it did not win over viewers.
"If you're going to do an ad for toenail fungus it needed to be funny, and it wasn't," said Super Bowl viewer Naomi Zikmund-Fisher, a psychotherapist from Ann Arbor, Michigan.
Based on reporting by the Associated Press.