Danica Patrick celebrates Aaron Rodgers' contract with bubbly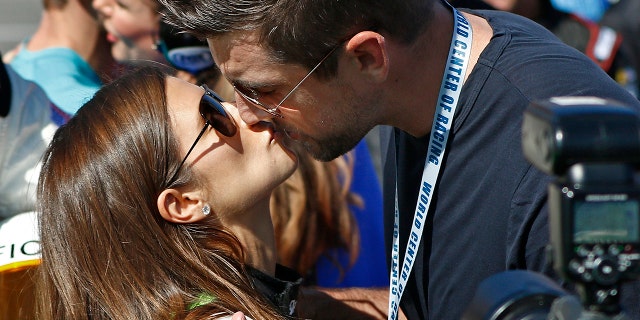 Danica Patrick is breaking out the bubbly.
After boyfriend Aaron Rodgers and the Packers agreed to terms Wednesday on a four-year extension worth up to $134 million, the retired race car driver kicked off the celebrations with Armand De Brignac Brut Gold champagne, which can retail for well over $300 a bottle.
"Big day," Patrick, 36, posted to her Instagram story, which included a snap of the bottle engraved with, "Aaron Rodgers, Green Bay Packers."
Rodgers, 34, who will receive more than $80 million before March, stemming from a $57.5 million signing bonus, likely will finish his career in Green Bay, as the deal will expire following the 2023 season, when he'll be 40 years old.
"It's been an amazing ride the last 13 years; excited to start year 14 knowing that my future is here, in Green Bay, for our 100th season," Rodgers wrote Wednesday on Instagram. "I've grown up in this place, and grown older and a little wiser along the way.
"Thank you to our incredible fan base for inspiring us players to be better year after year. Thank you to the Packers organization for standing by me time and time again and giving me the opportunity to lead this football team. And thank you to my teammates along the way, past and present who have impacted my life in so many positive ways, giving me friendships for life. Looking forward to making some more memorable moments this year, and for years to come…."
When the Packers open their season against the Bears on Sept. 9, Rodgers will have Green Bay's newest fan in the stands, despite her previous allegiance to Chicago.
"I was a Bears fan [but] I've known Aaron for quite a while and I've always told him I would cheer for him. As I've said before, I cheer for him, I just don't want his team to win. Now, of course, I cheer for the whole team." Patrick said in May.
Patrick confirmed her relationship with Rodgers in January.
This article originally appeared in the New York Post.