Danica McKellar Faces Backlash Over Maxim Spread, Has Advice For Miley Cyrus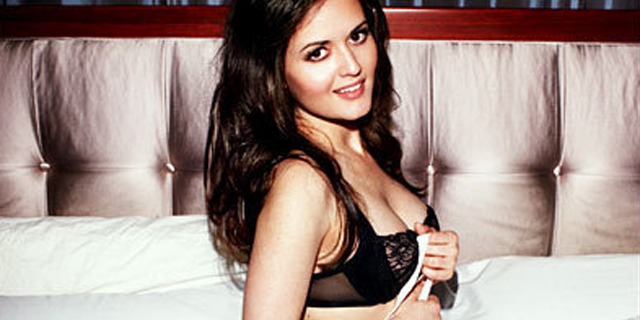 For six years, Danica McKellar lit up American television screens with her portrayal of the sweet, wholesome Winnie Cooper in the ABC series "The Wonder Years." Then, 17 years after parting ways with that lovable girl next door, McKellar posed for a men's magazine.
Now she's dealing with the consequences.
"I just did a spread in Maxim, I'm 35 years old. I've had women and parents email me asking if I should really be doing that, since I'm still considered a role model," McKellar recently told Pop Tarts at the launch of Heidi Klum's Pea In a Pod maternity collection.
But this wasn't even her lingerie debut!
FOX411: Danica McKellar in Maxim.
In 2005, Danica bared her bod for Maxim's sister publication, Stuff Magazine. So did the former child star make a mistake in deciding to flash the flesh and pose provocatively yet again? Has the pristine perception of Winnie Cooper been tainted forever?
"Obviously posing for Maxim in lingerie takes away that virtuous, innocent brand. It's not a traditional form of showing yourself to America," said New York-based image consultant and publicist, Adam Weiss, "It is understandable a lot of parents and fans are disappointed. Winnie/Danica was seen by many as one of the last remaining role models that truly embodied what it means to be a young American girl with values. We just don't see that in characters and celebrities much anymore."
But another media watcher thinks McKellar made exactly the right move.
THEN/NOW: The Cast of Wonder Years.
"I think she has done a great thing, every actress who appears in Maxim becomes hot," said Roger Neal of NPR Management. "In showing herself off as an adult, Danica sheds the wholesome kid image we remember her from on 'The Wonder Years,' and we see her all grown up. Hollywood will come calling, she'll be wanted for even more film and TV roles for her from this I am sure."
McKellar, who transitioned from a child actress with roles on "West Wing and "NYPD Blue," doesn't see a problem with posing in sexy black lingerie and knee-high boots. But when it comes to 17-year-old Miley Cyrus, who raised eyebrows with her racy new music video for "Can't Be Tamed," was caught on camera giving a producer a lap dance, and was filmed giving a fake lesbian kiss onstage, well, that's a different story.
"Oh Miley. She has to evolve. I think that when those girls (Cyrus's fan base) grow up to be 35, they should go for it. But if Miley is marketing towards those girls, with questionable content, then maybe she should rethink it," McKellar said. "My advice to her parents… watch what your kids are doing. Keep an eye on what your kids are seeing online. Parents need to stay involved in what their children are being exposed to. It's so important."
On that note, McKellar, who got married last year, is getting ready to take on her most important role to date: motherhood.
"This is all brand new. It's really exciting," she gushed, revealing she has is in her second trimester. "We're not sure if it's a boy or girl, we're going to find out. We would like to have two though, one of each… but, whatever we are supposed to have is what we'll have."
While McKellar may not be posing for Maxim again anytime soon, she's not going to let herself go, either.
"[I'm doing] work out videos!" she said. "I'm five months, and I don't know my body anymore, but I'm still working out."