Dangerous dance music? EDM concerts plagued by security, health issues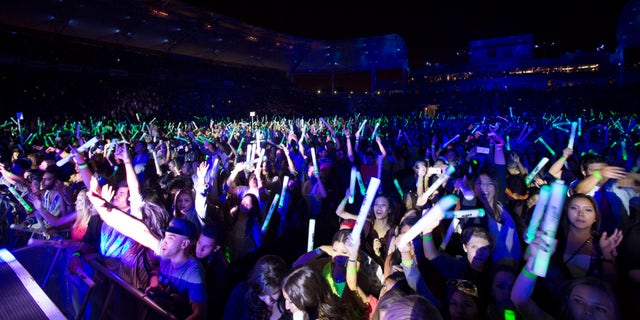 LOS ANGELES – Electronic Dance Music, better known as EDM, is becoming increasingly popular among young Americans, but the genre's concerts lately have been plagued by a series of dangerous problems.
The death of a 24-year-old California man at the Electric Daisy Carnival in Las Vegas over the weekend put a tragic dampener over the sparkling festival which attracted 130,000 people and was headlined by big names in the DJ music genre including Avicii, Diplo, Afrojack and Tiesto. The carnival relocated to the Vegas Motor Speedway from the Los Angeles Memorial Coliseum four years ago, after a 15-year-old girl died from drug intoxication.
On Wednesday night, dozens of Boston concertgoers – some as young as 16 – were hospitalized at Avicii's EDM bash due to problems involving alcohol, drugs and dehydration. The Boston Police Licensing Division subsequently cited the venue for allowing intoxicated attendees to enter.
As EDM's popularity continues to rise– drugs, death and dance music are becoming all too commonly used in the same sentence. Drug use, attendees say, presents the biggest danger.
"Drugs have always had a place in club and dance music culture. Anytime you see people on drugs it is disturbing, especially to those of us who are so passionate about the music," Jamie Krauss, a N.Y.-based publicist who has been working with EDM artists for several years, told FOX411.
Last year, organizers of the Electric Zoo festival in New York canceled the event's final third day following the death of two young fans in addition to four others being hospitalized and 31 arrests. A week earlier, a 19-year-old died at a show in Boston. A security guard was trampled at the Ultra Music Festival in March, prompting the Mayor of Miami Tomas Regaldo to declare the festival shouldn't be brought back to the city despite the millions of dollars it brings to the local economy.
Vegas law enforcement officials estimated that 48 drug-related felony arrests were made at the Electric Daisy Carnival and more than 550 medical calls were made throughout the weekend.
The issues are becoming all too common, concertgoers say.
One EDM party attendee recalled several years ago seeing girls as young as 15 pass out during a show as others continued to surge and trample over her. The performing artist eventually called on attendees to "look out for one another" as it appeared the security couldn't keep things under control.
Yet Krauss said that it is often hard to gauge whether security personnel has a handle on what's going on. She says that at the big festivals, numerous measures – such as thorough bag checks and having medical professionals and guards on-site – are taken ensure public safety.
And some attendees argue that the substance use is no worse than at any other concert, in any other time period.
"EDM parties are no different than any mass gathering. People overdosed at Bonnaroo (a Tennessee-based festival that showcase all types of music), someone was stabbed at the Stones in '69, and people were trampled at The Who in 79," noted music expert and Rolling Stone journalist Steve Baltin. "The crowds [at EDM shows] are not violent or aggressive so the only question is if security can stop drugs coming in and the answer is probably not. There are always drugs at rock, country, or hip hop shows. I saw drunk people at a Neil Diamond show, it happens everywhere."
Medical professionals assert that it is when drugs like molly — which is said to be the active ingredient in ecstasy known as MDMA— are mixed with contaminants that trouble arises. But some EDM fans insist the drug is an important part of the shows.
"For me [while listening to electronic dance music], the drug makes the music almost sound better," said an 18-year-old from the New York area who takes molly at concerts.
And troubles aside, there is a distinct appeal to these types of parties.
"It's the communal vibe. Dance music has always been about bringing people together for a shared experience through the energy of a dance floor. The sensory overload is incredible," Krauss explained. "As festival culture becomes more pervasive, there is great competition to provide not only the best music, but the most incredible production value as well."
And man EDM devotees and music industry executives insist that the genre is much more than mere drug-fueled fests. Indeed, it is making its mark on the mainstream music world.
Daftpunk won Record of the Year at the 2014 Grammys while Dubstep was used last year for a video advertising President Obama's State of the Union address. The top EDM DJs are paid well into the hundreds of thousands of dollars to spin a single set. And believe it or not, many attend these parties because they really do love the music.
"Not all EDMers are raging drugged out nutcases," added longtime dance party devotee turned journalist Ariane Sommer. "It's more of a lifestyle movement than a way to party. People feel they belong."
Follow @holliesmckay on Twitter.