Dancing With the Stars: Selena Gomez Rocks, Levy & Burke Rumors Resurface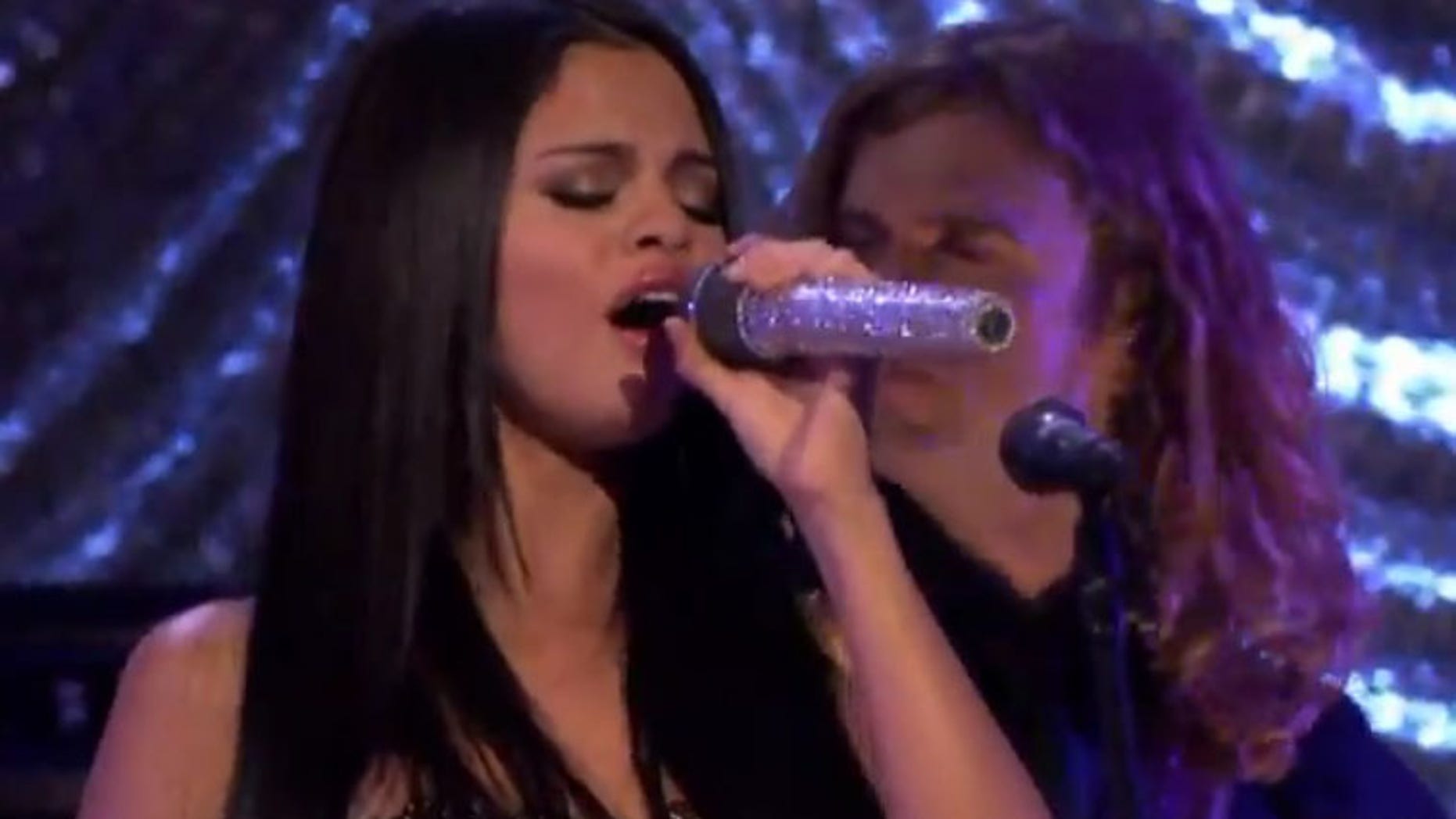 In celebration of Latin week on Dancing With the Stars, Selena Gomez and Sheila E. rocked the stage during the results episode Tuesday night.
With her long straight hair draping down her shoulders, Gomez donned a sparkly black and bronze tutu-style dress.
The singer/actress sang her latest single "Hit the Lights," backed by her band the Scene.
As Gomez sashayed from side to side while performing on stage, several dancers appeared in an upbeat routine in sync with SelGo's lyrics.
The music group Train also took the stage, singing their hit "Drive By." But it was famous percussionist Sheila E. who got everyone on their feet, shaking what their momma gave them.
Looking sexy in a tight bright pink ensemble, Sheila E. came on stage pounding a Conga drum and transformed the stage into a Brazilian-like carnival.
Simultaneously, dancers in extravagant and risqué outfits appeared dancing samba, while capoira performers kicked back and forth effortlessly.
Sheila E. then broke into a tribute to the queen of salsa, Celia Cruz, performing "Quimbara" as dancers performed a fast-paced salsa number.
"¡Azúcar! yelled Sheila. E as she finished her song.
Besides the Latin-inspired performances, the buzz among the dancers is a possible hookup between Cuban actor William Levy and Cheryl Burke.
Backstage footage surfaced of Levy and Burke's fellow contestants talking about the duo's intense tango performance on Monday evening.
"That was a lot of sexual tension," said a stunned Peta Murgatroyd, who is NFL's hunk Donald Driver's dance partner.
Disney star Roshon Fegan and partner Chelsie Hightower agreed as the clapping for Levy and Burke rose.
"That was a lot of sex," Hightower said, while Fegan looked at her and nodded.
"Yea,that was real," he said.
Last month, rumors were swirling that the two stars were hooking up on and off the dance floor.
"She's a great woman," Levy told AccessHollywood.com. "She's a great girl — anyone would like to go out with her."
But then he added: "But here, we're dancing. We're just dancing right now."
Burke, who has allegedly hooked up with other dancing partners in the past, (including Chad Ochocinco and the Jersey Shore's The Situation) also denied getting cozy with the Cuban hunk.
"It's strictly business," Burke told AccessHollywood.com.  "It's very emotional on the dance floor, then you leave and that's it. Leave it here."
She said girls just want to have fun.
You can reach Alexandra Gratereaux at: Alexandra.Gratereaux@foxnewslatino.com or via Twitter:@GalexLatino
Follow us on twitter.com/foxnewslatino
Like us at facebook.com/foxnewslatino