'Dancing with the Stars': Kellie Pickler, Aly Raisman show off at semi-finals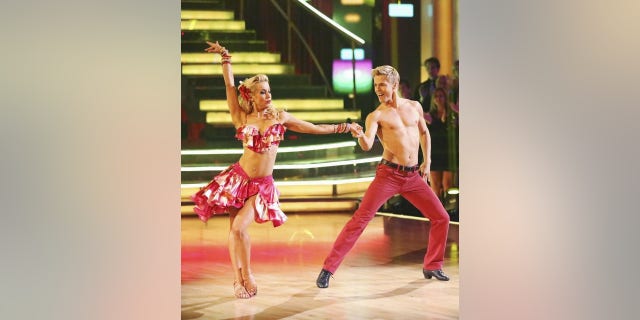 Perfection was (almost) everywhere on Monday night's "Dancing with the Stars" semi-finals.
Four of the five remaining couples earned a perfect score of 30 from the judges–including Kellie Pickler, who turned around cranky judge Len Goodman with her flawless Argentine Tango.
"What's happened in the past is of no consequence," Goodman explained, referring to his awarding Pickler a controversially low score last week for her Paso Doble. "The rest of the competition starts tonight... Close the door, call me Mary–that was fantastic!"
Pickler and partner Derek Hough earned three 10s from the judges–their first perfect score of the season–with their traditional take on the Argentine Tango. The pair, dressed as Latin lovers from the '30s, began with a shadow dance in front of a stark red panel and ended with Pickler and Hough spinning into a sensual embrace.
"Your split-second turn was just incredible," marveled judge Bruno Tonioli, who compared Pickler to Broadway legend Chita Rivera. "It was superb."
Pickler and Hough also earned high marks from the judges for their Flamenco, a dance chosen for the couple by fans on Twitter last week.
"As far as I'm concerned, you just booked your place in the finals," declared Goodman after watching the performance that earned a standing ovation from the audience.
For their efforts, Pickler and Hough earned a combined total of 58 points for the night.
Olympic gymnast Alexandra Raisman and partner Mark Ballas performed a bittersweet Rumba to "When I Was Your Man," which also earned a perfect score from the judges.
"Every moment of that story, you drew us all in," raved judge Carrie Ann Inaba about the interpretation of Bruno Mars' song of lost love, while Goodman added that the dance "had romance, but wasn't raunchy."
For Raisman's second number, fans on Twitter decided that she and Ballas should perform an Afro Jazz routine, and they did not disappoint. The pair donned feathers and warpaint and wildly shimmied every part of their bodies to Gregor Salto's "Azumba."
"Booyah, ba-ba-ba-ba-booyah, booyah," joyfully cheered Inaba. "I don't think people know how hard of a dance that was, athletically… you guys were in perfect synch. It was just fantastic!"
Raisman and Ballas would have earned a perfect score, but Goodman deducted a point for their lack of "connection." Nevertheless, Raisman and Ballas landed in first place for the evening.
Also tying Raisman for first place was Ravens wide receiver Jacoby Jones, who earned a perfect score–and a standing ovation–for his daring and athletic Argentine Tango with partner Karina Smirnoff.
"That's what I'm talking about!" said Goodman, pounding his fists on the table for emphasis. "Mood. Intensity. Great feel. Ka-ching! Right on the money, Jacoby. That was great!"
Jones and Smirnoff, who performed fearlessly despite being hospitalized on Sunday after accidentally landing on her jaw during rehearsals, also earned raves for their wild Lindy Hop to the Cherry Poppin' Daddies' "Ding-Dong Daddy of the D-Car Line."
"That was frantic frenzy of electricity," raved Tonioli. "You got everybody powered up, including me... For me, you nailed it, man."
Inaba was floored by Jones' frenetic performance, "Without a doubt, I vote you the number one entertainer of season 16."
Former front-runner Zendaya Coleman slipped to 4th place, leaving the judges underwhelmed by her NASCAR–inspired Quickstep… yes, NASCAR.
"Uh-oh, trouble in paradise," lamented Inaba. "That was kind of a mess."
Coleman and partner Val Chmerkovskiy earned 25 points for their Quickstep, but rebounded with their Twitter-chosen dance; Hip-Hop.
Disney star Coleman is an experienced hip-hop dancer, so the 16-year-old brought in her own dance coach to school Chemerkovskiy in the uniquely American style of dance.
It paid off.
"Val–nice job," praised Inaba with a wink. "You killed it."
The pair earned a perfect score of 30, for a total of 55 points for the night.
It was clear that "General Hospital" star Ingo Rademacher knew that he was the underdog in the competition–he was the only celebrity to fail to get a perfect score Monday night.
"We're definitely not going to go down without a fight," the soap star declared during rehearsals. But his determination and drive might not be enough to propel him into the finals.
Rademacher's Samba to Maroon 5's "One More Night" with partner Kym Johnson earned more pity than praise.
"You don't give up," clucked Tonioli. "It's like a dog with a bone."
The pair earned 24 points for their efforts.
Rademacher and Johnson's Charleston fared slightly better with their Twitter-chosen dance, the Charleston, earning 27 points for a total of 51 points for the night.
Up Next: "Dancing with the Stars" celebrates its 300th episode with Avril Lavigne.