Country singer Sonny James dies at age 87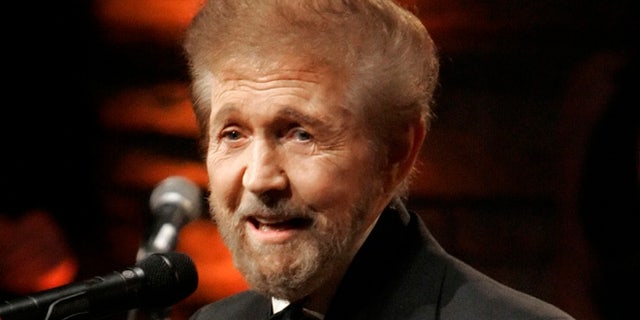 NASHVILLE, Tenn. – Country singer Sonny James, who recorded romantic ballads like "Young Love" and turned pop songs into country hits, has died. He was 87.
James, whose given name was James Loden, died Monday in a Nashville hospice facility, according to a family friend, Gary Robble, who was the lead singer of James' backing band, the Southern Gentlemen.
The singer born in Hackleburg, Alabama, was known as the "Southern Gentleman" because of his gentle, respectable demeanor. He was also a songwriter as well as a guitarist and fiddler. James was elected to the Country Music Hall of Fame in 2006.
From 1967 to 1971, he had 16 No. 1 country records. That helped him earn the country artist of the decade award for 1965-1974 by Record World magazine.
In 1957, James scored his biggest hit, "Young Love," which sold 3 million copies.
His hits included "It's the Little Things," ''You're the Only World I Know," ''I'll Never Find Another You," ''Empty Arms," ''Behind the Tear," ''Take Good Care of Her," ''When the Snow Is on the Roses," ''That's Why I Love You Like I Do" and "Here Comes Honey Again."
For the country field, he recorded several songs that had been pop hits earlier: "Since I Met You Baby," ''Running Bear," ''It's Just a Matter of Time," ''Only the Lonely" and "Only Love Can Break a Heart."
His "Young Love" was also No. 1 on the pop charts. "First Date, First Kiss, First Love" was a moderate pop hit a year later.
In the 1960s, he made several motion pictures, including "Second Fiddle to a Steel Guitar," ''Las Vegas Hillbillies" (with Jayne Mansfield) and "Hillbilly in a Haunted House" (with Basil Rathbone and Lon Chaney Jr.)
He retired in the mid-1980s. He is survived by his wife, Doris.