Colombian singer cancels Miss USA appearance over Donald Trump's comments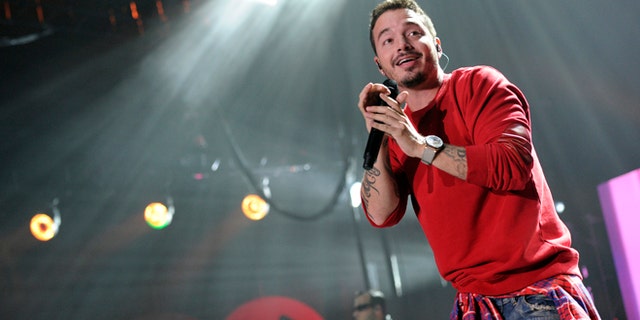 The first casualty following Donald Trump's controversial comments about Mexicans hit the cutting board.
Colombian singer J Balvin canceled his planned performance at this year's Miss USA pageant, citing pageant owner Trump's "hateful political rhetoric" as the reason.
A spokesperson for the reggaeton singer said in a written statement Wednesday that Balvin's management team has told the Miss Universe organization, owned by Trump, to withdraw his name from the performance list.
"J Balvin was initially very grateful for the opportunity to share his music with a national U.S. network television audience when first invited to be a performer on the upcoming Miss USA broadcast," the statement said.
"However, he can no longer in good conscience agree to take part in an event that is overseen by, and creates a profit for Donald Trump, while Mr. Trump attacks the hard-working Latino immigrant community with hateful political rhetoric."
During his presidential campaign kickoff speech last week, Trump accused Latino immigrants of bringing drugs, crime and rapists to the U.S. The businessman specifically targeted Mexican immigrants in his speech.
Trump, who made several references to his wealth during his kick off speech, said Mexico was "killing" the economy of the U.S.
"Nobody can build a fence like me. I would build a wall like nobody can build a wall. And nobody comes in illegally anymore…I build great buildings all over the world. I would have Mexico pay for it. Believe me," he said. "They will pay for it because they have really ripped this country off."
Balvin's announcement to withdraw from the broadcast set for July 12 comes in the heels of former Miss Universe Lupita Jones threatening to pull the Mexican representative from this year's pageant. Jones is national director of Nuestra Belleza Mexico, who chooses its country's Miss Universe representative.
"Following the first statements made by Donald Trump, where he openly showed his enmity with Mexico… I got in touch with the organization's president Paula Shugart to find out their position on Mexico's representative," Jones wrote in Spanish on Twitter.
Jones has not said if Wendy Esparza, the 23-year-old journalist set to represent Mexico later this year, will be removed from the competition, but she would seriously consider doing so if she feels the beauty queen will be denigrated during the competition.
"In the moment that I feel that our representative's integrity and dignity is at risk, I will consider Wendy's participation in Miss Universe," she wrote on Twitter.
A spokeswoman for the Miss Universe organization did not immediately respond to messages seeking comment. However, Trump issued statement regarding the uproar after his comments - he did not mention the Miss USA or Miss Universe pageants.
"I am personally offended by the mainstream media's attempt to distort my comments regarding Mexico and its great people. My views have been consistent and totally clear, but inaccurately reported," Trump said. "I have many successful business relationships with Mexican companies and employ, and am close friends with, many Mexican people. I also have tremendous respect for the leaders of Mexico, who, frankly, are much smarter and tougher than our politicians here in the United States."
The GOP presidential candidate said it is a matter of national security and that his comments were related to the United States' "incompetent politicians and their failed trade and immigration policies."
"We cannot allow illegal immigrants to pour into our country," he continued. "We can barely support our own, much less continue to allow millions of people of many different nationalities to enter our country illegally across an unprotected and porous border and take much needed jobs from American citizens."
He added: "We are in serious trouble, economically and from a security perspective, and we need leaders who are intelligent, truthful and tough in order to negotiate deals with countries like Mexico, and many others, that will make America great again."
MSNBC anchor Thomas Roberts and "Dancing with the Stars" dancer Cheryl Burke will host this year's Miss USA pageant.
The current Miss USA crown holder, Nia Sanchez, identifies as part Mexican and part German in her biography on the pageant's website.
Rapper Flo Rida and country singer Craig Wayne were announced Wednesday as performers at the July 12 ceremony in Baton Rouge, Louisiana.
The Associated Press contributed to this report.
Like us on Facebook
Follow us on Twitter & Instagram