CNN's Howard Schultz town hall down 48 percent in viewers compared to Kamala Harris' appearance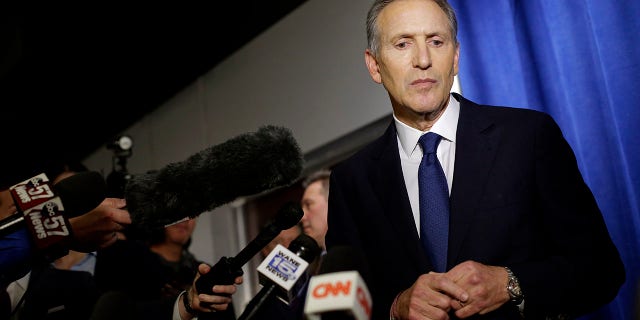 Potential 2020 presidential candidate Howard Schultz was criticized by viewers on both sides of the aisle for his performance during CNN's heavily promoted town hall event on Tuesday night and viewership was down significantly compared to the turnout for fellow 2020 hopeful Kamala Harris' similar appearance.
CNN's town hall event averaged 1 million viewers during the Schultz event from 10-11:15 p.m. ET, while rival liberal network MSNBC averaged 2.2 million viewers and Fox News averaged 2.3 million during the same period, according to early Nielsen Media Research.
CNN USES ILHAN OMAR'S ANTI-SEMITISM CONTROVERSY TO ATTACK TRUMP, GOP
CNN also finished last among the key demo of adults age 25-54, averaging 341,000 viewers compared to MSNBC's 361,000 and FNC's 437,000. Even worse for Schultz is the fact that his event lost a large number of viewers who tuned in to Harris' recent CNN town hall.
Schultz's town hall was down 48 percent in total viewers compared to Harris' Jan. 28 version, while the coffee honcho also lost 52 percent in the demo. He publicly mulled a run for president as a "centrist independent" last month but was met with backlash from Democrats worried that his candidacy would split the anti-Trump vote and ruin the chances of the party's nominee.
CNN initially raised eyebrows by offering a platform to a potential candidate before an official announcement has been made. When the town hall aired on Tuesday, CNN's Poppy Harlow grilled Schultz on everything from his taxes to whether or not he would sell his Starbucks shares if he emerged as president and many of his responses were criticized on social media.
KAMALA HARRIS SAYS SHE LISTENED TO SNOOP DOGG, TUPAC WHILE SMOKING WEED IN COLLEGE YEARS BEFORE THEY MADE MUSIC
A lot of the criticism was pointed at a moment when the coffee mogul said he doesn't see color, but it was hardly the only answer to receive blowback. CNN's own website even published a piece headlined, "13 strange and awkward lines from Howard Schultz's CNN town hall."
Former Obama staffer Tommy Vietor even called Schultz "the political equivalent of a Starbucks sous vide egg bite" because he is "bland, shapeless, and no one asked for it to be put on the menu."
Fox News' Samuel Chamberlain contributed to this report.