CNN's Brian Stelter accused of 'dishonesty' and 'hypocrisy' in attacks on Sinclair Broadcasting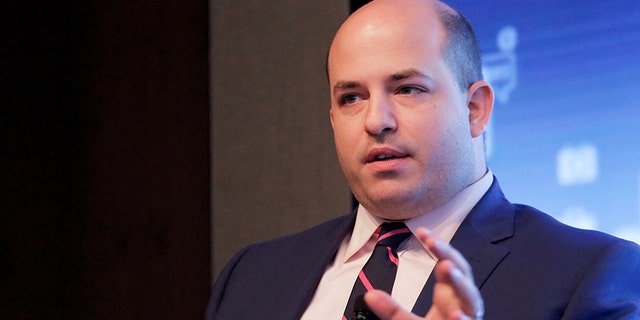 Sinclair Broadcasting released a video on Tuesday that accuses CNN's Brian Stelter of dishonesty and hypocrisy for his recent attacks on the company amid controversy over Sinclair anchors being asked to read a scripted warning about fake news.
The video, "Did CNN attack Sinclair for doing exactly what CNN has done for years?," is a slickly produced, four-minute montage that calls out Stelter for using rhetoric similar to what Sinclair has come under fire for giving its anchors.
Stelter, CNN's senior media correspondent, has devoted significant coverage to a minute-long script that Sinclair management asked its anchors to read in an effort to combat false and misleading news. Liberal website Deadspin did a mashup of many versions of the Sinclair bit, culminating in numerous anchors saying: "This is extremely dangerous to a democracy."
CNN and other news organizations have condemned the script, painting Sinclair as unobjectively pro-Donald Trump. Stelter even seemed to relish how a Sinclair producer in Nebraska resigned over the script.
However, many watchdogs noticed that the controversial Sinclair script sounded an awful lot like something Stelter would utter on CNN, where he is known to sing the praises of the journalism industry.
Sinclair's video points to a March 7 segment in which Stelter went after Sinclair, saying the videos echo President Trump's "inflammatory rhetoric about fake news." The Sinclair video then asks, "Does CNN really think a warning about 'fake news' is Trump rhetoric?"
The Sinclair response then shows a variety of clips revealing that Stelter has warned CNN viewers about fake news on a regular basis since 2016. Stelter is shown calling fake news "a plague," warning viewers about websites designed to mislead people and even saying fake news can impact an election.
"Sinclair's warning is similar," the video says before proving that CNN warned viewers fake news was "bad for our democracy" back in 2016. Sinclair's video shows that its anchors said pushing an agenda to control what people think is "dangerous to our democracy" in the script before text appears on screen.
"Sinclair offers a similar warning: that some outlets republish fake stories without fact-checking," the video says. "In 2016, CNN urged media colleagues to challenge fake news."
Stelter is then shown telling CNN viewers that everyone must fight fake news.
"Sinclair agrees, but takes its commitment one step further," the video says. "Fake news is a problem. Everyone knows it. Calling out Sinclair for calling out 'fake news' is dishonest and reprehensible."
Sinclair's video then asks, "Is it really news that 'fake news' is a concern in 2018? Or is this an attack on Sinclair?"
When reached for comment, Stelter provided Fox News with the following statement: "There's a huge difference between my coverage and Sinclair's mandatory promos. No one tells me what to say. But these anchors were told exactly what to say. These promos became a story because Sinclair staffers spoke up and said they were uncomfortable. They said they'd never seen anything like this before."