CNN ridiculed for accusing Trump of bullying 'dumbest man on television' Don Lemon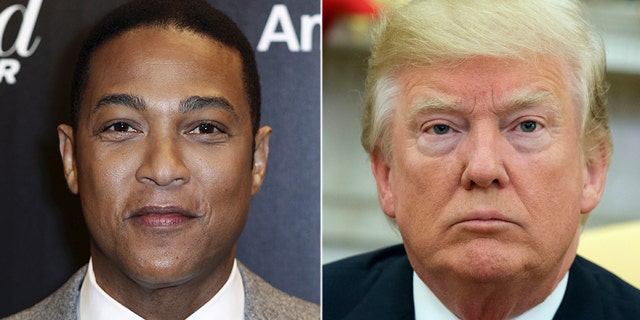 NEWYou can now listen to Fox News articles!
CNN has accused President Trump of bullying Don Lemon in a tweet that called the polarizing anchor the "dumbest man on television."
Trump slammed The New York Times on Monday morning over what he called a "false" story claiming he watches up to eight hours of television a day – while taking yet another swipe at CNN and MSNBC. The Times article detailed Trump's "hour-by-hour battle for self-preservation," describing how he sometimes "hate-watches" CNN's Lemon.
"Another false story, this time in the Failing @nytimes, that I watch 4-8 hours of television a day - Wrong! Also, I seldom, if ever, watch CNN or MSNBC, both of which I consider Fake News. I never watch Don Lemon, who I once called the "dumbest man on television!" Bad Reporting," Trump tweeted on Monday morning.
CNN quickly issued a statement, accusing Trump of bullying the 51-year-old anchor.
"In a world where bullies torment kids on social media to devastating effect on a regular basis with insults and name calling, it is sad to see our president engaging in the very same behavior himself. Leaders should lead by example," CNN said.
Former CNN political analyst Jeff Greenfield isn't a fan of CNN's statement and mocked his old network.
"Unless Don Lemon is a LOT younger than he appears to be, this is a tone-deaf overreach. From what I've seen, Lemon--unlike bullied kids whose school officials ignore the issue--is more than capable of standing up for himself. This almost infantilizes him," he tweeted.
Fox News contributor Stephen Miller joked, "CNN just compared themselves to a crying kid in a car and they think that's the high road."
President Trump has an ongoing feud with CNN, which has essentially implemented an anti-Trump programming strategy. As a result, the president often refers to CNN as "fake news" and the network has launched an advertising campaign in an attempt to shake that moniker with a "Facts First" initiative.
CNN had to issue an embarrassing correction on Friday when the Washington Post debunked the network's report claiming the Trump campaign had early, secret access to hacked DNC emails from WikiLeaks. The network on Friday inaccurately trumpeted that Congressional investigators obtained a mysterious 2016 email that was sent to Trump and other top aides, including Donald Trump Jr., which contained information on how to get a sneak peek at hacked information that WikiLeaks had acquired. The email, as CNN reported, offered a "decryption key" to access the files – but the network botched the date on the email, rendering the entire report irrelevant.
In addition, CNN on Monday gently backpedaled a report from earlier this year that bashed Attorney General Jeff Sessions for failing to disclose meetings he had with Russian officials when he applied for his security clearance – but it turns out he wasn't required to.