CMA Awards take back press restriction on asking questions about guns, politics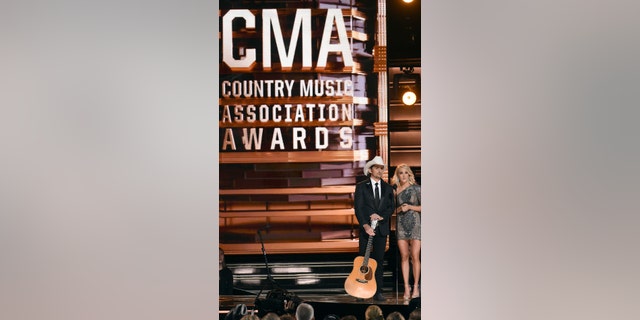 The Country Music Associated has reversed its decision on restricting the types of questions reporters can ask at the CMA Awards.
"CMA apologizes for the recently distributed restrictions in the CMA Awards media guidelines, which have since been lifted. The sentiment was not to infringe and was created with the best of intentions to honor and celebrate Country Music," the organization in a statement.
The new regulations were designed to avoid questions about the recent mass shooting in Las Vegas and other political topics.
The statement comes following a backlash by artists, including from the co-host for the awards show, Brad Paisley.
"I'm sure the CMA will do the right thing and rescind these ridiculous and unfair press guidelines. In 3...2....1.....," Paisley tweeted Friday.
After the decision was reversed Paisley tweeted, "Bravo CMA awards for doing the right thing & apologizing for this mistake. All are welcome, let's have a great show."
The CMA's original statement was as follows:
"In light of recent events, and out of respect for the artists directly or indirectly involved, please refrain from focusing your coverage of the CMA Awards Red Carpet and Backstage Media Center on the Las Vegas tragedy, gun rights, political affiliations or topics of the like," read the guidelines provided to Fox News.
"It's vital, more so this year than in years past due to the sensitivities at hand, that the CMA Awards be a celebration of Country Music and the artists that make this genre so great. It's an evening to honor the outstanding achievements in Country Music of the previous year and we want everyone to feel comfortable talking to press about this exciting time."
A representative for the CMAs noted to Fox News that "all outlets must agree for access" to the event. The 51st Annual CMA Awards are scheduled to take place in Nashville, Tennessee on November 8.
At a media preview Thursday in New York City, with hosts Carrie Underwood and Brad Paisley, The Associated Press asked the performers about the Vegas shooting. The stars said they want to honor the victims' families during the show.
The world of country music has been in unique and unfamiliar territory of late following the tragedy in Las Vegas at a Jason Aldean concert that left nearly 60 people dead. Additionally, one of the genre's most popular publicists, Kirt Webster, is embroiled in a sexual abuse scandal.
The Associated Press contributed to this report.