Christina Aguilera denied from singing with New Orleans bar band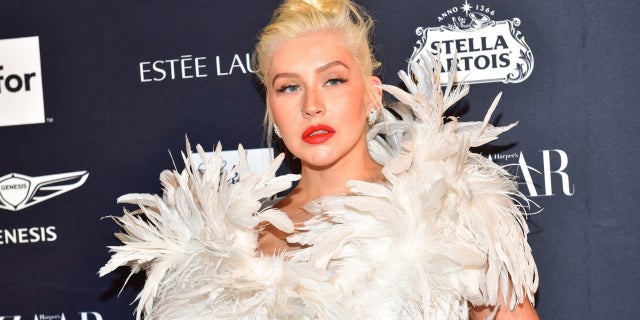 Pop star Christina Aguilera got shut down by a local New Orleans band Thursday after she asked if she could join them onstage for a song.
The "Beautiful" singer was in the city while on her "Liberation" tour, Billboard reported, when she popped by the Frenchmen Street hot spot Café Negril. On Thursdays, local band Claude Bryant and the All Stars are booked to perform at the bar.
Aguilera was dancing to the tunes before she decided to ask the band's frontman, Claude Bryant, if she could sing with them. An onlooker captured the exchange between the "Fighter" singer and Bryant.
CHRISTINA AGUILERA POSTPONES THE NEXT STOP OF HER 'LIBERATION' TOUR AFTER LOSING HER VOICE
"You don't want that? Oh, it's OK. I don't have to sing," Aguilera was heard saying.
The next night, Aguilera spoke about the exchange to the crowd at her concert at the Saenger Performing Arts Center, People reported.
"I go to this little bar and there's this live band playing, and I was with a couple of my dancers and I was just like, 'Let me just get up onstage and jam with this guy. Maybe I'll sing a song or whatever and be fun,'" she recalled to the audience.
"He would not give me the mic. He was, like, a little older and he was just like, he was not feeling it," she continued. "He was not gonna give up his mic. I was like, 'Oh, I just want to come, just let me come up,' and he just said, 'What, are you gonna dance for me?' I was like, 'No, I just want to sing a song with you."
Following the exchange, Bryant told WGNO-TV that he didn't recognize Aguilera.
CHRISTINA AGUILERA CANCELS 'LIBERATION' TOUR GIG DUE TO 'PRODUCTION SAFETY CONCERNS'
"I'm sorry Christina, I just didn't recognize you!" he told WGNO-TV.
He apologized for not recognizing the Grammy Award-winning singer and invited her to sing with them.
"Come back, Christina. You can sing anything you want with us," Bryant said.