Chrissy Metz fires back at critics of her MTV Movie and TV Awards dress: 'I wear what I want'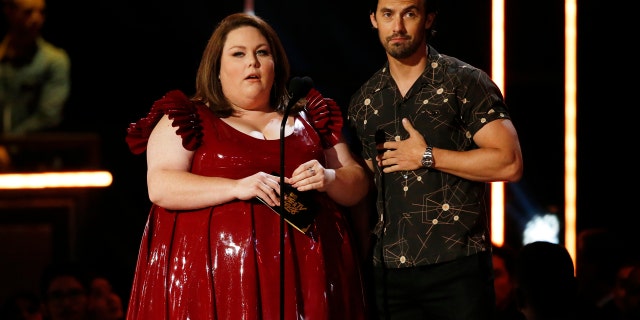 "This is Us" star Chrissy Metz clapped back at haters who mocked her spandex red dress at the MTV Movie and TV Awards on Sunday.
Metz presented at the show alongside her co-star Milo Ventimiglia.
The actress wore a shiny red dress with ruffled short sleeves that featured a pleated skirt and above-the-knee hemline.
Some viewers suggested the dress was the wrong fit for Metz.
But the star wasn't having it. She quickly took to her Twitter account to fire back after she read some of the negative comments.
For the record, I wear what I want, when I want. News flash it's
MY body. #thankstho

— Chrissy Metz (@ChrissyMetz) May 8, 2017
Metz stars in "This is Us" as Kate Pearson, a woman who has embarked on her own weight-loss journey.
In February, the star opened up about being an advocate for body positivity during a chat on Sirius XM's "Just Jenny."
"When you're knowledgeable about something the fear goes away and so many people are afraid of fat people," said the 36-year-old. "It's crazy and I hate to say that, but until we educate people and figure out what the real issue is, people are going to be afraid of it."