Chris Brown: The most unwelcome guest at the Grammys?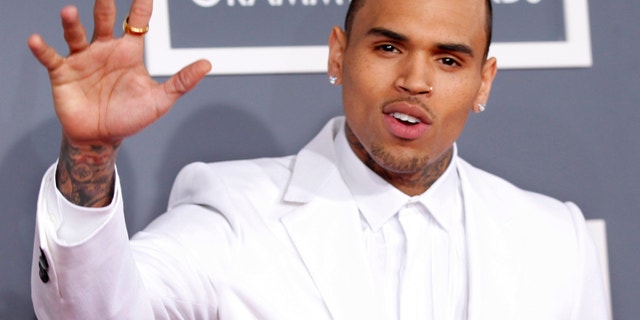 Despite having a nomination under his belt, Chris Brown would have perhaps been better off staying away from the 55th Annual Grammys Ceremony in Los Angeles on Sunday night.
To top off his already treacherous week - which involved a trip to the court house in the wake of the L.A District Attorney filing a motion against him for allegedly lying about his community service and then crashing his Porsche on Saturday - Brown quickly became one of the most tweeted names of the entire show.
And for all the wrong reasons.
As the crowd, including his on-again/off-again girlfriend Rihanna, stood to applaud for music's man of the moment Frank Ocean for his Urban Contemporary Album win the controversial crooner was caught on camera clapping, yet refusing to honor with a standing ovation. Brown was also nominated in the category.
The slow-moving image of the awkward moment was rapidly re-tweeted across social media and scores of fans weighed in.

PHOTO: Chris Brown refuses to stand for Frank Ocean

"Chris Brown is the ONLY person in the building that didn't give Frank Ocean a standing ovation," observed on viewer, while others posted that seeing his face when they announced Ocean's name was "worth sitting through."
Of course, the two have had some serious drama recently. Late last month, Brown and Ocean got into an alleged physical altercation outside a Los Angeles recording studio, presumably over a parking space.
According to a police investigation, Ocean accused Brown and his entourage of punching him. However, battery charges likely won't be filed, and last week Ocean released a video-log calling for "peace" on the issue.
But judging by the obvious tension in the room, things were far from cool and peaceful. And the mere presence of Brown - who stood out in his all-white suit - sitting in the famed Staples Center brought about its own eye-rolls and groans from the audience, unwilling to forgive and forget the infamous 2009 Grammy's weekend in which he severely bashed his beloved Rihanna in an altercation after the annual Clive Davis Grammy party the night before.
"Chris Brown has zero class and is disgusting," one viewer tweeted, others called it "appalling" he even attended, and actor Zach Braff wrote: "Chris Brown lost? Rihanna might wanna put on a helmet," which then prompted other Twitter users to pile in on him for "joking" about domestic violence.

Phew.
But this year it seems the show producers were not willing to let the incident fall to the wayside either. Just minutes before the live telecast was to begin, the show producer took to the mic to urge everyone to quickly take their seats, using the opportunity to praise show host LL Cool J for his swift action last year in respectfully addressing Whitney Houston's sudden death a day earlier, and also acknowledging that "other" fateful Grammy's weekend "four years ago." Hint hint.
So in case they'd somehow forgotten, all talent and guests were reminded as they rushed to their seats. And incidentally, flashes of Brown and Rihanna throughout the CBS telecast were few and far-between, with cameras instead focusing on the likes of Taylor Swift and Beyonce/Jay-Z enjoying the proceedings. Ocean even took to the stage again later in the evening to perform his hit "Forrest Gump," providing a golden opportunity to pan to Brown for a quick reaction for rating's sake - but no dice.
Perhaps the Recording Academy learned its lesson from 2012, in which they came under fire after giving Brown the esteemed and very coveted honor of performing - twice. The move ignited widespread outrage, with even the likes of country sensation Miranda Lambert taking to Twitter to express her dismay:
"He beat on a girl... Not cool that we act like that didn't happen," she wrote.
Brown did however, have no problems offering up a standing ovation at the conclusion of the Bob Marley tribute which involved Rihanna performing alongside several Marley offspring, as well as Sting and Bruno Mars.
But despite the court of public opinion continuously condemning the romantic reunion between Brown and Rihanna, it appears as though, at least from her end, something is rolling right.
"Rihanna has never been happier," a source quipped to FOX411's Pop Tarts column. "And she has never looked better either."
Yet to avoid drawing attention to their relationship, we're told that the duo arrived separately and walked the red carpet separately, and that thought and precaution too was taken to ensure Brown and Ocean weren't seated too closely.
"CBS and the Recording Academy really laid down the law with everyone this year," added another insider. "They wanted the show to be about the music, and drama-free."
A rep for Brown did not immediately respond to request for comment.