Chris Brown charged with felony assault after altercation in DC, expected in court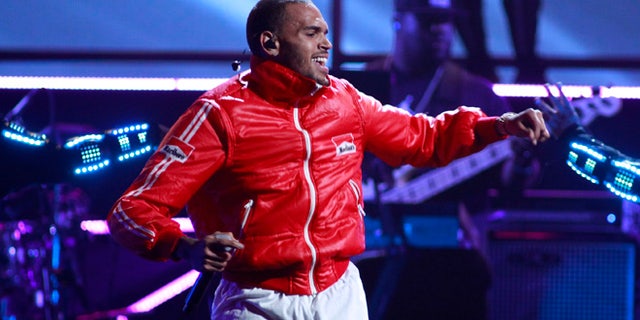 Chris Brown was expected to appear in court Monday on an assault charge after a fight broke out over the weekend near a Washington hotel, which could further snarl the Grammy Award-winning R&B singer's ongoing legal troubles.
Brown and another man were charged Sunday with felony assault in the altercation that started just before 4:30 a.m., D.C. police spokesman Paul Metcalf said. It happened near the W Hotel, not far from the White House.
The man who was attacked received treatment for his injuries at a local hospital and was released Sunday. Police wouldn't elaborate on his injuries but said the felony charge was based in part on the extent of the injuries. The victim's name wasn't released.
Law enforcement sources told TMZ that Brown allegedly punched a man in the face. The sources said a woman approached Brown to take a picture with him, but then two other men stopped by to get into the photo.
"I'm not into this gay s**t, I'm into boxing," Brown said before swinging at one of the men, the sources alleged.
Brown's publicists and attorney, Mark Geragos, did not immediately respond to messages left early Sunday.
Brown remains on probation for the 2009 beating of his on-again, off-again girlfriend Rihanna just before the Grammy Awards. The photos of Rihanna's bruised face caused outrage among many fans. Brown pleaded guilty to one count of felony assault as part of a plea deal.
His probation was revoked briefly earlier this year after a hit-and-run incident, and he was given 1,000 more hours of community service to perform. There were allegations that he may have skated on some or all of the 1,400 hours he was first assigned
Brown, who lives in Los Angeles and is originally from Virginia, has been involved in a number of incidents since the 2009 arrest. He was initially sued for a nightclub brawl that allegedly erupted between his entourage and that of musician Drake, at the time believed to be a paramour of Rihanna.
Brown also tussled with singer Frank Ocean and others after Ocean parked in Brown's space at a recording studio in Los Angeles. Ocean said he suffered an injured finger, but no charges were filed. A second man, Sha'keir Duarte, sued Brown, claiming a concussion.
Brown's arrest could prompt Los Angeles prosecutors to seek a revocation of Brown's probation for the Rihanna beating and ask a judge to impose additional penalties on the singer, including time in jail or prison.
Brown is due back in court Nov. 20 in Los Angeles to update a judge on his probation.
The Associated Press contributed to this report.